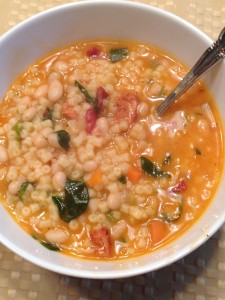 Pasta, power greens and bean soup sounds incredibly healthy doesn't it? Well, it kind of is. I like to think that the health benefits of the power greens cancel out the bacon that is in there. I have never cooked with bacon in my soup since I tend to prefer the "healthier" varieties. However, the bacon really does make this soup a complete bowl full of deliciousness.
Level of Difficulty: Easy
Time Required: Prep Time – 15 min; Cook Time – 30-40 minutes
Ingredients (enough for several meals and to share):
6 slices of bacon, chopped
1/2 white onion, chopped
6 baby carrots, diced
5 cloves of garlic, minced
2 T. tomato paste
2 tsp. fresh thyme
Kosher salt and pepper
12 c. chicken broth
1/2 c. grated parmesan cheese (divided)
2 1/2 c. small pasta
2 15 oz. cans of white beans, drained and rinsed
3 c. fresh power greens, chopped
Preparing Pasta, Power Greens and Bean Soup:
Cook the bacon pieces in a large pot over medium heat, stirring often, until crisp (about 4-6 minutes). Add the onions and cook about 3 minutes, or until slightly softened. Add carrots, garlic, tomato paste and thyme. Stir well. Add 1/4 tsp. each of salt and pepper and cook for 4 minutes, or until carrots soften. Add chicken broth and turn the temperature up to high. Cover and bring to a boil.
Add the pasta and beans and cook for about 5 minutes. Reduce the heat to medium and add the power greens. Simmer, uncovered until the soup thickens slightly, about 7-10 minutes. Stir in half of the parmesan cheese. Ladle soup in the bowls and sprinkle with remaining cheese.
Got Leftovers?:
This soup heats up nicely for leftovers. If it's too thick for your liking, just add some more chicken broth or water.