My sister and I are always looking for new appetizers to make. She turned me on to a very similar version of this Mexican Spinach Dip a few months ago. I've made it a couple of times and it is always a huge hit!
Level of Difficulty: Easy
Time Required: Prep Time – 15 min; Cook Time – 30 min.
Ingredients:
1 10 oz package of chopped spinach, thawed & drained
1 8 oz. package of light cream cheese, room temperature
1/2 c. chopped white or sweet onion
1/4 c. seeded, chopped jalapeño
2 cans Original Rotel, 1 drained, 1 undrained
14 oz. shredded Mexican cheese blend
1/3 c. sour cream
1/2 tsp. cumin
1/2 tsp. chili powder
1 package of tortilla ships
Preparing Mexican Spinach Dip:
Preheat 350. Combine all ingredients in a large bowl. Turn into a baking or casserole dish. Bake 30 min. or until hot and bubbly. Serve with tortillas chips.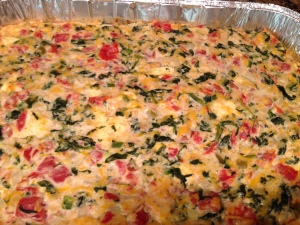 Variations:
If you want to add some extra heat, use more jalapeños or a spicier pepper. You can also use "hot" Rotel!
Got Leftovers?:
This dip actually heats up very well.