Sauteed corn is a great alternative to corn on the cob or canned corn (I think Melissa's heart just skipped a beat on the thought of that one). It really is not hard to make and is a great compliment to any nice piece of protein!
Level of Difficulty: Easy
Time Required: 25 minutes
Ingredients:
4 ears of corn (or one ear per person)
2 Tbsp. butter
1 tsp. sugar
salt and pepper to taste
Special Equipment and Other Items Needed:
Cast Iron Skillet (or other skillet)
Preparing Sauteed Corn:
Cut the kernels off of the cob into a bowl. Make sure you go back and scrape the milky liquid into the bowl as well. Melt butter in skillet over medium-high heat. Add corn and sauté for 10 minutes, or until the mixture is thickened. Stir in sugar, salt and pepper.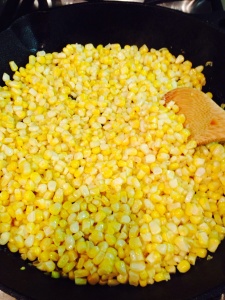 Important Tips:
You have to be patient and get the milky liquid from the corn.
Got Leftovers?:
Leftover sauteed corn is great on a salad or in vegetable soup!