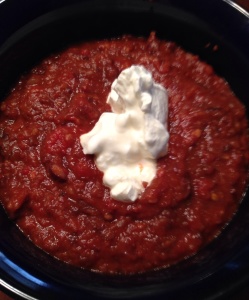 The soup I originally planned to make last week was black bean soup. However, once my taste tester tried it, she said I needed to call it black bean bean chili instead because it had the consistency of chili, not soup. If you want it more soupy, just don't use the emersion blender.
Level of Difficulty: Easy
Time Required: Prep Time – 10 min; Cook Time – 40 minutes
Ingredients:
1 package of sun dried tomatoes (not in oil)
1 c. boiling water
1/2 medium onion, finely chopped
4 garlic cloves, minced
4 ancho chiles in adobe sauce, diced
2 T. olive oil
1 1/2 tsp. cumin
1/2 c. water
1 28 oz. crushed tomatoes (undrained)
3 15 oz. cans black beans (2 undrained, 1 drained)
Sour cream (for garnish, if desired)
Special Equipment and Other Items Needed:
Preparing Black Bean Chili:
Place sun dried tomatoes in a small bowl. Add boiling water and cover. Set aside.
Heat oil in large soup pot over medium high heat. Add onions and garlic. Saute for 5 minutes, stirring often. Add ancho chiles and cook for 2-3 minutes. Add cumin, water and crushed tomatoes with the juice. Cover and bring to a boil. Simmer for 5 minutes. Add black beans and continue simmering for 10 minutes, stirring frequently.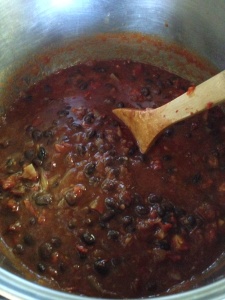 Drain and chop the sun dried tomatoes. Add to the soup and cook for 10 more minutes. Using your emersion blender, puree the soup to desired consistency.
Serve in a bowl with a dollop of sour cream, if desired.