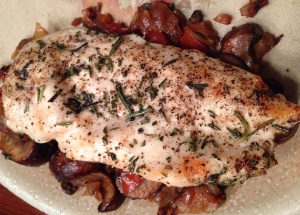 I was look through an old Food and Wine magazine recently and found this Rosemary Grilled Chicken with Mushroom Sauce recipe. It was a great way to jazz up a traditional piece of grilled chicken without a lot of work!
Level of Difficulty: Moderate
Time Required: Prep Time – 30min; Cook Time – 25 min.
Ingredients:
4 skinless, boneless chicken breast halves (1 1/4 pounds)
5 tablespoons extra-virgin olive oil
1 tablespoon chopped rosemary
Freshly ground pepper
1 pound shiitake mushrooms, stems discarded and caps thinly sliced
1/2 pound cremini mushrooms, stems discarded and caps thinly sliced
1 small onion, finely chopped
2 garlic cloves, minced
1 teaspoon chopped thyme
3 medium tomatoes—halved, seeded and cut into 1/2-inch dice
Salt
Preparing Rosemary Grilled Chicken with Mushroom Sauce:
Light a grill or preheat a grill pan. In a medium baking dish, brush the chicken breasts with 1 tablespoon of the oil and rub with the rosemary. Season with pepper and let stand for 30 minutes.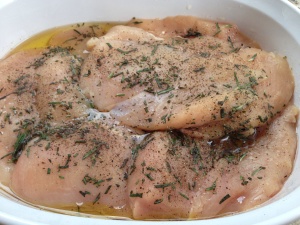 Meanwhile, heat the remaining 1/4 cup of oil in a large skillet. Add the mushrooms and cook over moderately high heat until browned, about 6 minutes. Add the onion, garlic and thyme and cook until the onion is translucent, about 4 minutes. Add the tomatoes and season with salt and pepper.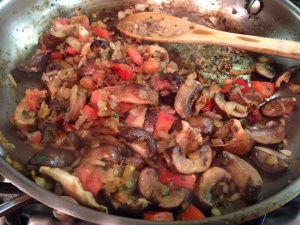 Cover partially and cook over low heat, stirring occasionally, until the mushrooms are tender, about 15 minutes.
Season the chicken with salt and grill over moderately high heat, turning once, until cooked through, about 8 minutes.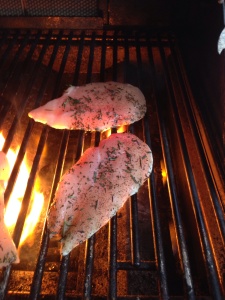 Season the mushroom sauce with salt and pepper and spoon onto plates. Slice the grilled chicken breasts on the diagonal 1/2 inch thick. Arrange the chicken over the mushroom sauce and serve.