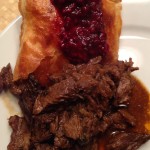 I don't work with puff pastry often. I use it to make baked brie and that's pretty much it. When I saw blue cheese, blackberries and puff pastry in the mystery basket, I knew I was going to make blue cheese filled puff pastry with blackberry sauce. I was pretty confident about the puff pastry, but had never made a blackberry sauce. I'll be honest…I'd make it again in a heartbeat!!
Level of Difficulty:Easy
Time Required:Prep Time – 10 min; Cook Time – 25 min
Ingredients:
Blue cheese filled puff pastry
2 sheets puff pastry, defrosted
4 oz. Blue cheese, crumbled
1 egg
Blackberry Sauce
1 pint of blackberries, washed
1/4 cup sugar
Special Equipment and Other Items Needed:
Parchment paper
Pastry Brush
Wooden Spoon
Preparing Blue Cheese Filled Puff Pastry with Blackberry Sauce:
Preheat oven to 425 Degrees. Line a baking sheet with parchment paper. Roll out one sheet of puff pastry onto the parchment paper and sprinkle it with blue cheese. Gently lay the other puff pastry sheet on top, pinching the edges together. Crack the egg in a bowl and whisk it with 1T of water for an egg wash. Brush the egg wash all over the top of the puff pastry to help it turn a more deep brown color. Bake for 25 minutes, or until golden brown.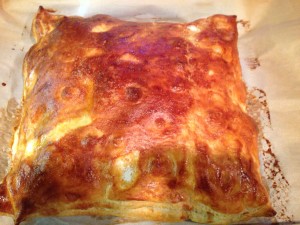 While the puff pastry is cooking, put the blackberries in a saucepan over medium high heat. Cook, stirring often, until the blackberries break down and start to liquify. Using a wooden spoon to smash the blackberries once they begin to soften will help with the process. When the blackberries start turning to nice bubbly sauce, add the sugar and stir well.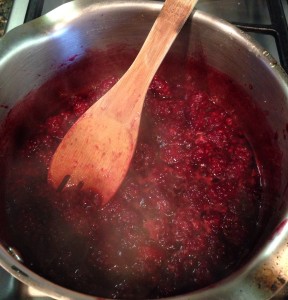 The sauce will be thick and will be done in the time it takes to cook the puff pastry. How convenient is that?
Cut the puff pastry into squares and top with blackberry sauce!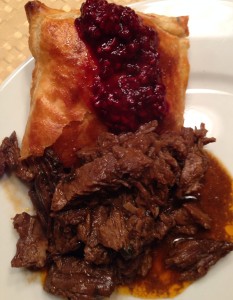 Variations:
Any cheese would be fantastic inside of the puff pastry, as well as any other berry sauce.
Meal Ideas:
I served this along side roasted rutabagas and Brussels sprouts, and chipotle beer braised short ribs as a part of the McNack's Kitchen First-ever Mystery Basket.
Look at you, Denise! Stepping so far outside of your comfort zone! Rather impressive! Just in case you are still picking the blackberry seeds out of your teeth, you may want to strain the sauce through a wire mesh strainer next time. 😉

Oh, and you should watch the video again since you clearly changed the rules even though you are always saying that I'm the one changing the rules! You said you were going to cook the short ribs in the puff pastry and blue cheese not serve next to….just sayin' ~Melissa

My sauce was so thick that it wouldn't go through the strainer. I did try that. Surprisingly the seeds weren't an issue. It was all good though.

Oh…and as I've explained to you…I must have more of a Southern accent than you do. Either that or I just don't enunciate my words clearly. Either explanation is possible. When you think I said "in" what I really said was "and". Most likely it came out as "en". ~Denise

Explanation or excuse? You be the judge. ~Melissa