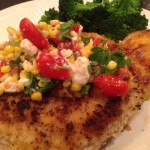 I've made versions of this many times. I never really make it the same way twice because it usually depends on the season, what's fresh and what I have on hand. Regardless, the general preparation is the same and it is a little bit of summer in your mouth even in the middle of winter!
When I made this the other night, I was out of eggs so I did not bread it like I normally would a chicken cutlet (flour, egg wash, bread crumbs). So, I was thinking through what I had on hand that would help the Panko adhere to the chicken. I scoured the pantry and fridge and then I saw it, that golden jar of deliciousness that would do just the trick…Dijon Mustard!!
Well, since I was already going a bit light, I opted to go really light by not sautéing the cutlet, instead, I opted to bake it. Here is a recipe for making this for your loved ones.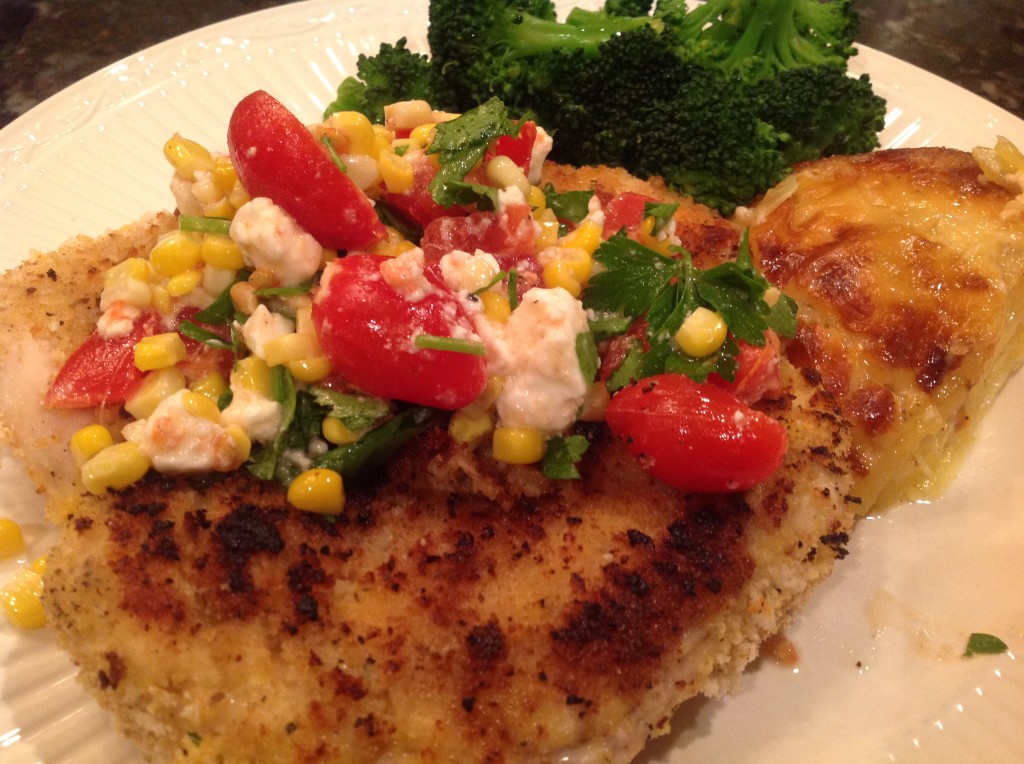 Level of Difficulty: Moderate
Time Required: Prep Time – 20min; Cook Time – 20 min
Ingredients for 4:
2 boneless, skinless chicken breasts prepared into a cutlet or 4 already prepared cutlets. You'll want to pound them to even thickness and to help tenderize too.
2 cups of panko bread crumbs
4 T Dijon Mustard
salt and pepper
Fresh summer salad option 1 (pictured)
2 cups grape tomatoes, diced
1/4 cup cilantro, chopped
1 cup fresh corn, grilled and removed from cob (I use leftovers!)
1/2 cup feta, crumbled
salt and pepper
Fresh summer salad option 2 (not that there are only 2 options!)
1 cup red grape tomatoes, diced
1 cup yellow/orange cherry tomatoes, diced
1/4 cup basil cut in a chiffonade
1/2 cup feta, crumbled
1 ripe avocado, diced
salt and pepper
juice of 1 lime
Preparation:
Preheat oven to 400 degrees.
Make chicken cutlets as directed in the link above (including pounding them), salt and pepper the breasts, coat with 1 T Dijon mustard, and then dredge in the Panko bread crumbs. Repeat for all cutlets and set on a baking sheet (cover baking sheet with parchment paper for easy cleanup).
Dice the tomatoes and place in bowl. Add the basil and add salt and pepper. Set aside.
Place chicken in oven on middle rack.
While it starts cooking, add the feta to the tomatoes but don't stir. If doing option 1, add the rest of the summer salad ingredients but just stir once right before you add to the chicken. If doing option 2, dice the avocado and add to the bowl but again, don't stir. Juice the lime over the avocado and add a bit more salt and pepper. You'll stir it gently right before you top the chicken with it. Stir too much and you'll mush up the avocado and feta
Cook the chicken for about 15-20 minutes depending on thickness. When the cutlets are close to done, bump up the temperature to broil. Don't walk too far away. You just want to get some 'browness' on the top of the chicken breasts. Just don't overcook it!
Remove from oven and top generously with the summer salad. Serve with your favorite sides. In the picture it is served with steamed broccoli and scalloped potatoes. The other night, I served with brown rice and steamed broccoli to keep with the lightened theme. In fact, for the entire meal, there was not one ounce of fat added!!
(of course, if you want the uber tasty version, skip the mustard, bread with flour, egg wash and Panko then sauté in olive oil instead of baking)
Important Tips:
Don't over stir and don't over cook!! It's that simple.
Variations:
Have fun with the summer salad!! Add what you like. I use grape tomatoes in the winter because they taste good all year round.