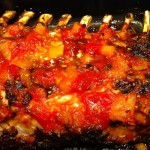 I've made a lot of pork loin roasts in my day and I have mixed results on how tender and juicy they turn out. I know that cooking things with the bones still in helps keep things juicy so I grabbed a nice 8 rib bone in pork loin roast at the grocery and brought it home. Now, how to make this pork roast moist, juicy, tender and delicious?!
I think I found it! I think my troubles of sometimes moist and sometimes not so moist are over! Hallelujah! See, I've tried a lot of different methods: searing it first, roasting at high temperature, baking at 350, grilling, and combinations of all the above. but, this was the BEST bone in pork loin roast I have ever made and I'm not sure why I'd ever do anything else!
Level of Difficulty: Moderate
Time Required:Prep Time – 45min; Cook Time – 2 hours
Ingredients for pork loin roast with mango and tomato chutney:
1 bone in pork loin roast (mine was 8 bones)
Coarse Kosher Salt
Fresh cracked black pepper
Country Style Dijon Mustard
6 cloves garlic, minced
Mango and Tomato Chutney
2 cups mango, diced
2 cups tomatoes, diced
2 green chilis, diced (how to cut a pepper), I used jalepenos because I've got so many right now
1/2 cup sugar
3T salt
2t mustard seeds
2t cayenne (I made this with a little heat but you can add less (or more) to suit your pallet)
2T oil
Special Equipment and Other Items Needed:
How to make juicy pork loin roast:
Let the pork loin roast come to room temperature for about 30 minutes to an hour.
Preheat oven to 400 degrees.
Prepare pork loin roast by rubbing all over generously with salt, pepper, garlic and Dijon mustard. Top, bottom and sides.
Cook in oven at 400 degrees on just above middle rack for 45 minutes. It should be getting some nice brown parts on top.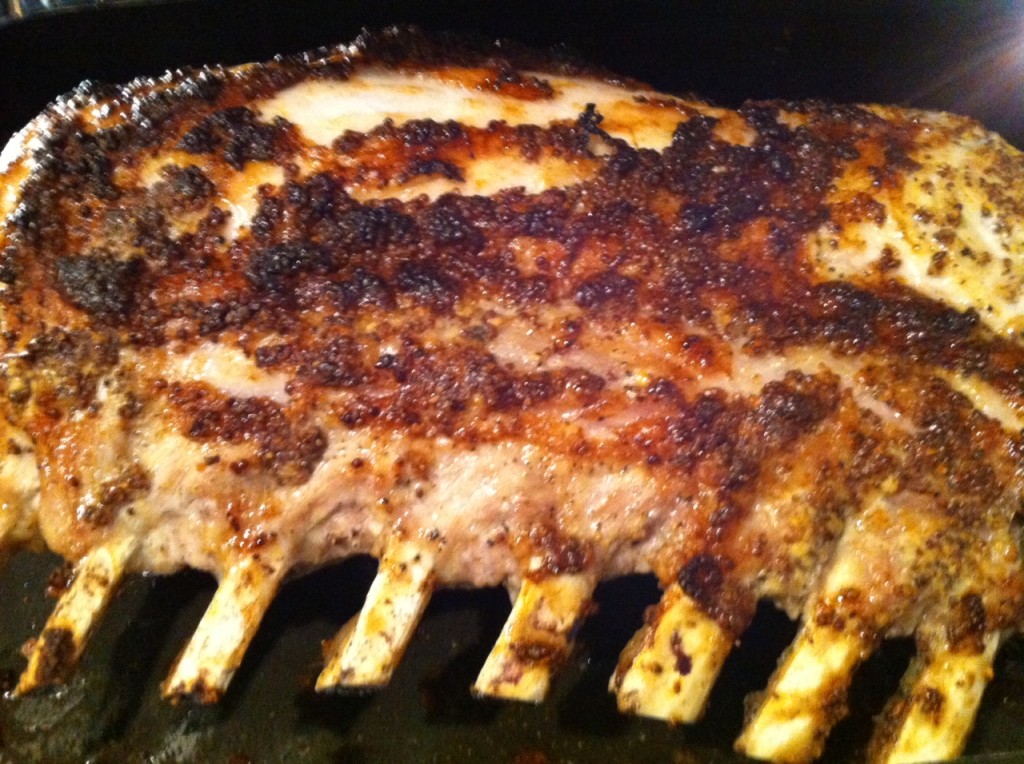 While in the oven, make the chutney. Here is the recipe for the chutney but the only thing I did different was let it cook down longer so not quite as chunky. Most of the tomatoes had broken down. If you cook it while the roast cooks, it should be perfect.
Reduce oven temperature to 325 degrees. Cover pork loin roast in chutney (you will probably have some chutney to reserve which I used to warm up my leftovers the next day) and cook for another hour to hour and 15 minutes internal temperature is 150 degrees.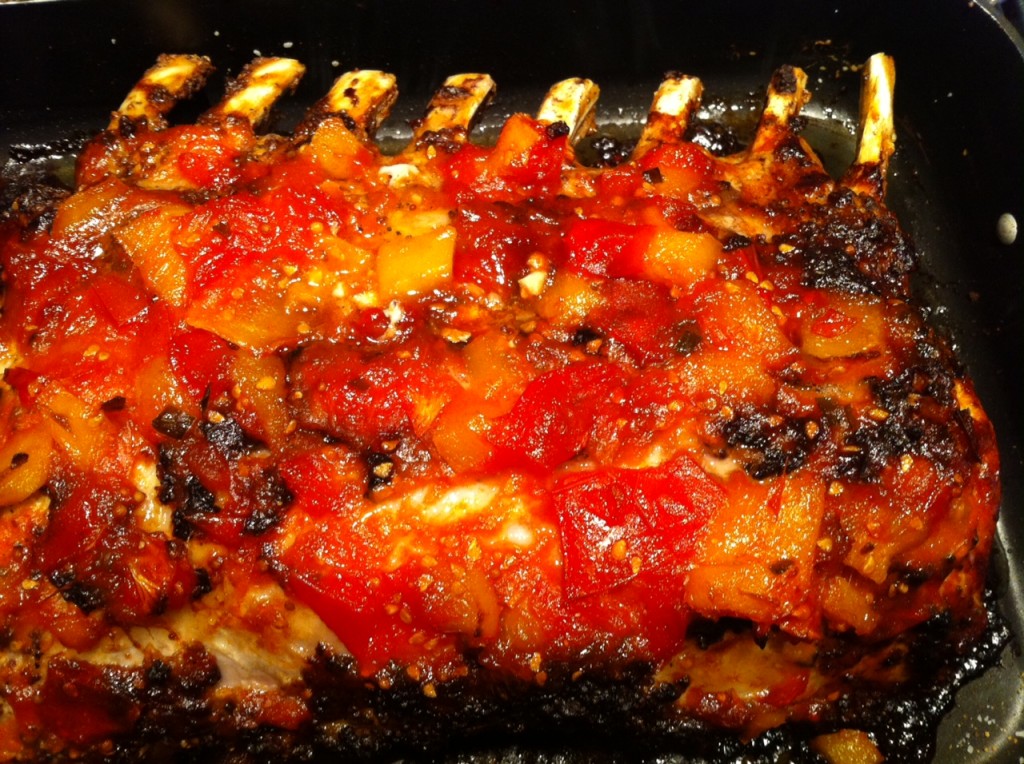 Remove from oven and let rest for 15 minutes while you finish your last minute things. When prepared to serve, you can either serve full bone-in pork loin chops by cutting the pork loin with ribs in tact or you can remove the ribs and cut the meat in whatever sizes you want.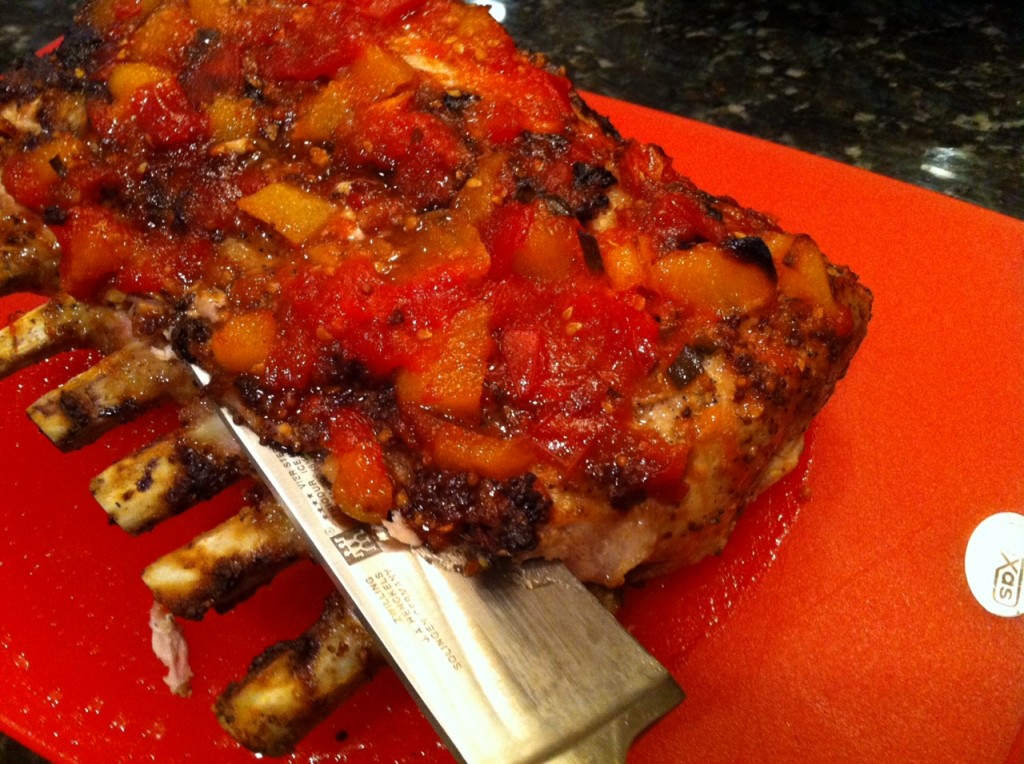 Because I have kids to serve too, I chose the latter. Remove the ribs by slicing as close to the bones as possible all the way down. Then you can slice the pork loin into thin slices. I enjoyed eating the ribs later!
Top with the juices from the pan (which if too thick, add some chicken stock and simmer, scraping up the bits on the bottom) and serve. You will not be disappointed!!! I promise. I almost didn't call everyone to dinner and just ate the full thing by myself. SOOOO good.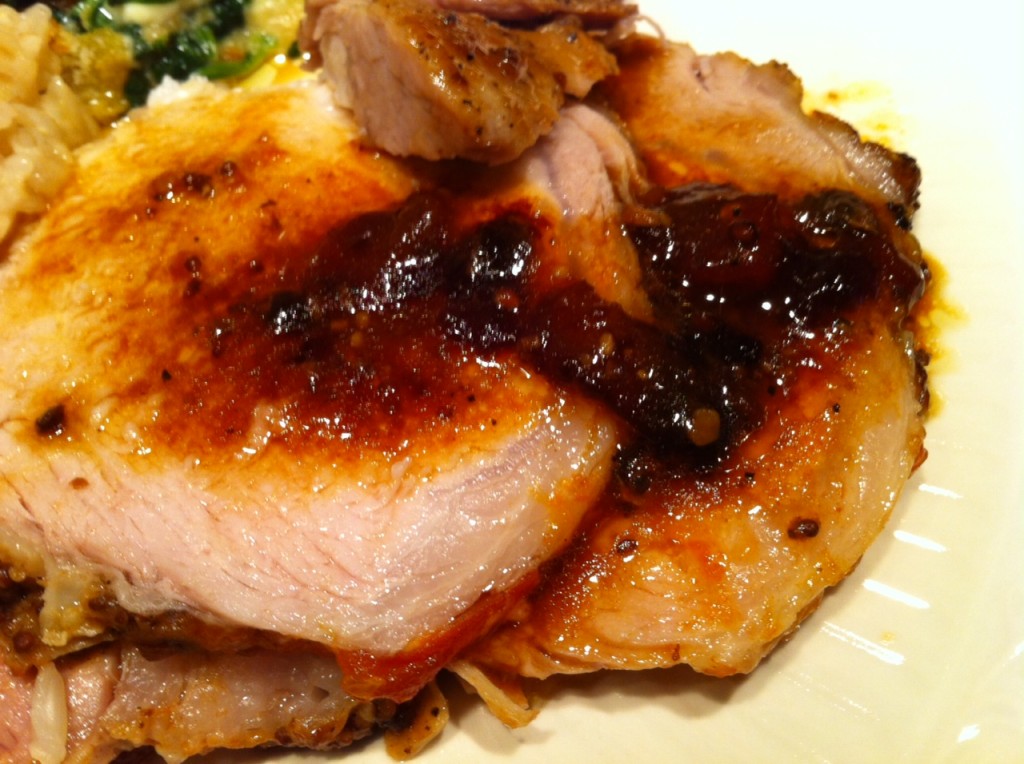 Important Tips:
The oven! 450 degrees for 45 minutes and 325 degrees until done. This was perfection for moistness. Now, if you do a pork loin roast without the bones, that will be different. I'd try 20 minutes at 450 degrees (or until brown on top) and then go to 325 degrees which will be a lot shorter than an hour since it doesn't have bones.
Variations:
You could use different flavors in the chutney. Apples, peaches, and onions all come to mind as well as the mangoes, tomatoes and peppers. Pick two or three and try it! Just don't vary the method in the oven.
Meal Ideas:
I served this with spinach pie and brown rice.
Got Leftovers?:
For leftovers, I heat the sauce and not the meat. Then let the thinly sliced meat soak in the sauce for a minute. Reheating the meat will just cook it and take out all of the moistness.