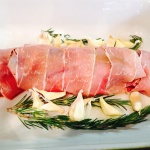 Roasts and "elegant looking" meals don't always have to be reserved for the weekends when you have more time to cook. I made this pork tenderloin with prosciutto on a school/work night last week for my family and it was a huge success. I had all of the ingredients on hand, it took virtually no time to prepare, and my family loved it. What more can you ask for?
Level of Difficulty: Easy
Time Required: Prep Time – 10 min; Cook Time – 35-40 min
Ingredients:
1 pork tenderloin
5 garlic cloves, peeled and crushed plus 1 head of garlic, separated into individual cloves
1 1/2 T. fresh rosemary, finely chopped plus 5 rosemary springs
1 1/2 tsp. kosher salt
2 T. Olive Oil, divided
6 slices of prosciutto (with the skin on)
fresh cracked pepper
Preparing Pork Tenderloin with Prosciutto:
Preheat oven to 425 Degrees. Mix crushed garlic, chopped rosemary, salt and 1 T. olive oil together in a small bowl.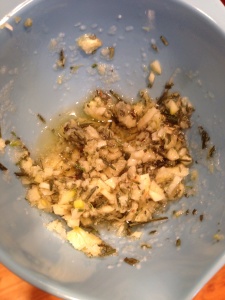 Rub garlic mixture over tenderloin and season with fresh cracked pepper. Wrap prosciutto strips around the pork, seam side down. Arrange rosemary sprigs on bottom of baking dish.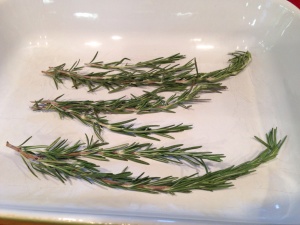 Place the prosciutto wrapped pork tenderloin on top of rosemary sprigs. Arrange garlic cloves around the pork.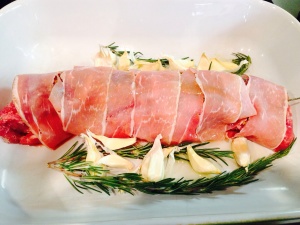 Drizzle with remaining 1 T. of oil. Cook for 40-45 minutes or until internal temperature reaches 145 Degrees. Let rest at least 10 minutes before slicing.