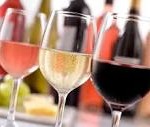 Winefest is tonight!!! Hosting a wine tasting party isn't the same as hosting other types of parties. There's a little more planning that goes into it. Here are a couple of key tips and ideas to host a successful wine tasting party.
8 tips to hosting a successful wine tasting
1. Don't feel like you have to do everything yourself. Have your guests pitch in! We are having everyone bring a dish made with wine. We also asked for everyone who wants to participate in the wine tasting to bring a bottle to share. Oh yes…and Dominos for the kids!
2. Have food specific for the tasting. We are setting up our wine tasting in the bar in our basement. You always hear about "cleansing the palate" when you are tasting different wines so we have bread, cheese and fruit to help with this. We are not offering any of those tasteless crackers!
3. Use glasses not plastic. If you are going to have a wine tasting, you really have to use glass! You cannot properly taste wine in a solo cup, really! With this many people, you probably don't have enough of the proper shape for each varietal in a cut crystal glass, but glass is still key. Just try to use the 'generic' shape glass.
4. Dump buckets and water. It's important to have a dump bucket so guests can dump any wine that they don't want to finish drinking. You also want to have some pitchers of water so guests can rinse their glass between tastings if they want. However, if tasting in the same varietal, it's best to have remnants of the previous wine than water anyway.
5. Have a tasting sheet. The goal of a wine tasting isn't to get drunk off of lots of different kinds of wine. It's to try new wines that you wouldn't normally have the chance to taste and see what you like! We have a sheet for guests to rate the wines on aroma (bouquet, nose), flavor & texture, finish, and appearance (color, legs, etc.). It will be fun to see which wines come out the winner!
6. The blind taste test. There are different ways to have a wine tasting. We have decided to do a blind taste test so each bottle will be wrapped in foil with a number on it. The guests will be given an index card to write down the description of the wine they brought on one side. That will be what the guests see when tasting the wine. On the other side of the card, it will be the name, vintage, year and price of the wine. We don't want people to see the type of wine they are drinking or the price point until they have decided whether or not they like it!
7. Beverages. It might be a hard concept to grasp, but not everyone likes wine. You should have other options for the guests who don't like wine or don't drink alcohol. You also need water. Lots of water!!!
8. Have fun. As with any party you host, have fun!! You are entitled to it as much as your guests are. For more ideas of planning a party, make sure you visit the Entertaining with Ease section of our website.