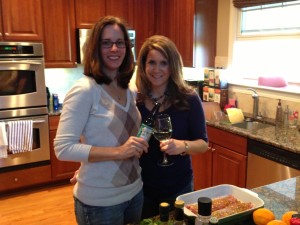 Our story
We met in homeroom as 8th graders at Ridgeview Middle School in Sandy Springs, GA. We are not even sure how we actually became friends that year, all we remember is that we were. In high school, we played basketball together. That's when the real fun began! Besides the interest in sports, it seemed as though we really didn't have that much else in common, but that didn't matter. We were together on the weekends, took trips together and became part of each other's family. Melissa is the smart one – strong head on her shoulders and very grounded. Denise is the other one – creative and fun and, most importantly for our friendship, she's the glue. She is the one who made sure that while living in California, out of sight did not also mean out of mind! Over the course of our almost 30 year friendship, we realized how much we both love cooking and entertaining, although we do it in very different ways. Neither one of us were formally trained and we have very different culinary backgrounds, but we both love making a great meal for our friends and family. If you have the DESIRE to cook, you CAN cook, and WE can help you!!!!
Follow us on facebook too if you'd like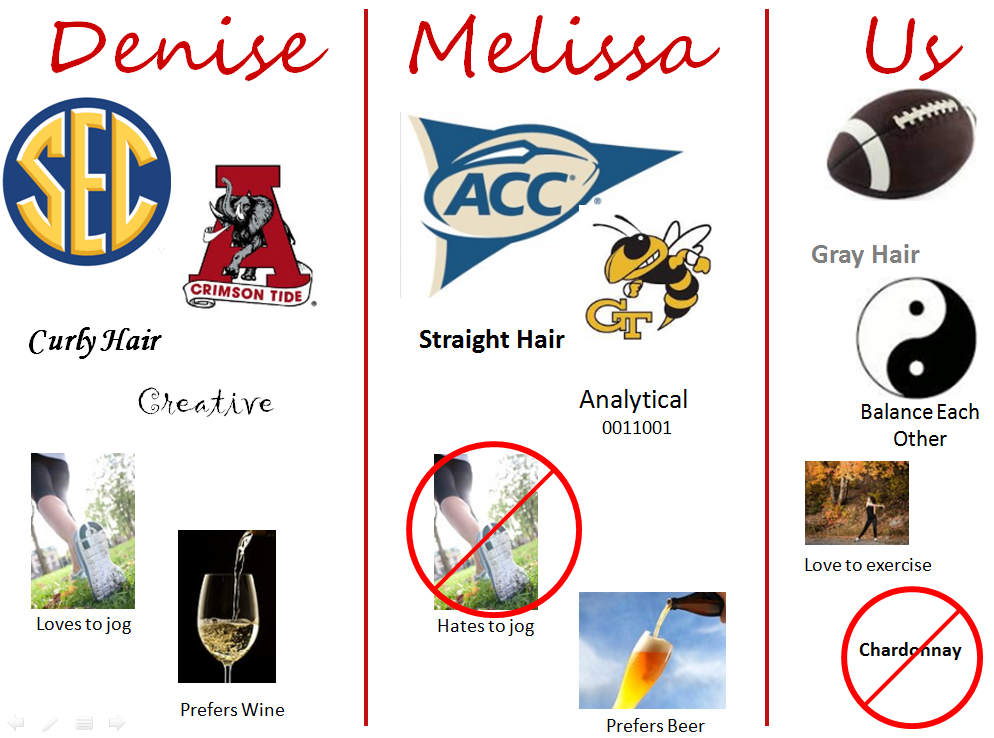 Who is Denise?
I grew up in Atlanta in a family of outstanding cooks. My grandmother, mother, aunts and sister could all cook up a storm like nobody's business. I was a different story. My first real experience in the kitchen was making homemade whipped cream at my aunt's house. I always got to mix the ingredients with a hand held beater and then lick the leftovers! I helped her with other dishes, but of course, the whipped cream stood out! As a senior in high school, I took a foods class hoping it would really spark an interest in cooking. I came out of there being able to make cream cheese bread from scratch and a spinach and artichoke casserole. I made the bread for special occasions over the next few years but that was about it. The desire still wasn't there. Spending time in the kitchen and preparing meals wasn't really anything that appealed to me. I didn't really know how to cook and didn't want to take the time to learn. Why should I? My family did it for me!!
When I moved to San Diego after college, my sister Tara sent me off with a binder of some of our favorite family recipes growing up. I got a kick out of the three ring binder because it was just like the one my mom had when I was growing up….recipes were cut out of magazines and put on index cards before attaching them to the right section of her massive recipe book. My mom's book was huge. This one was certainly a starter with the basics, but the basics were enough for me! I got married at the age of 23 and for my first Christmas as a married woman, my sister surprised me with a subscription to Bon Appetit. She said, "Now that you're married, you really should know how to cook!" I would cut out recipes and save them in my binder. Whenever we would visit each other, we had a list of things she would teach me. How to poach a chicken was one of the first things we did…and she made me touch the chicken with bare hands..no gloves! Yuck! Then came roasting root vegetables, making a turkey and cornbread stuffing…you name it! I suddenly had the DESIRE to cook, and I was getting pretty good at it because I had the best teacher!! She taught me almost everything I know when it comes to cooking and more importantly, taught me to LOVE it!! Throwing a casual party for 10 people or hosting Thanksgiving for over 20 people has become second nature to me. I even catered my father in-law's 70th birthday party for over 50 people by myself! It's all because I WANTED to learn how to cook and I had an amazing teacher. If I haven't said it enough before, I will say it now, "Thanks, Sister!" Oh…and I'm now on volume 2 of my three ring binder!!
Who is Melissa?
I also grew up in Atlanta and am proud to be one of the few true natives in this town of transplants…hmm hmm…that includes you Denise 😉
In my house, we had a family meal every night we were together. We almost never had pizza delivery or fast food. My mom loved to cook and would always make sure a complete meal was provided. However, there was one slight catch. She also hated to be in the kitchen alone. So, my siblings and I were always there watching her cook, stirring the sauces, cleaning the prep dishes, being 'go-fers' for anything she needed. We were sous-chefs extradordinaire.
My mother's other favorite passion was to entertain folks. Whether it was just one of her girlfriend's coming over for a drink or 75 people for a black-tie, sit down dinner, we were there. We would clean, prep, greet, serve and help make sure everything was executed to the highest level of precision. We learned to anticipate what would be needed before, during and after the party. We were the six extra hands that any hostess would love to have.
By the time I went to college, I was confident enough to cook any basic recipe and throw a party that was more than just chips and dip. Now, I cook nightly for my family, frequently for the retirees at my church in Atlanta (usually a crowd of about 40), and whenever I can come up with a decent excuse, I cook for friends. It is a passion I hope to share with you.