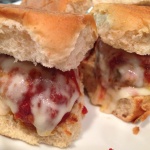 I was flipping through the January 2015 edition of Southern Living magazine recently and came across this recipe for Meatball Sliders. Can I just say, "AH-MAZING!" I made them on a Friday night when I knew the kids were having friends over since the recipes makes a lot of meatballs. I actually prepared the meatballs the night before and put them in the refrigerator. When I got home Friday afternoon after a busy day, I pulled out the meatballs to bring them to room temperature before putting them in the sauce. This could not have been more easy and everyone LOVED them! Note: I actually tried a meatball by itself and even though I am not a meatball expert, it was pretty awesome!
Level of Difficulty: Easy
Time Required: Prep Time – 30min; Cook Time – 10 hours
Ingredients:
2 tablespoons extra virgin olive oil
2 tablespoons tomato paste
1 tablespoon red wine vinegar
3 large fresh basil sprigs
2 garlic cloves, minced
2 (28-oz.) cans whole tomatoes, crushed
5 teaspoons kosher salt, divided
1 teaspoon freshly ground black pepper, divided
1 pound ground chuck
1 pound ground pork
1/2 cup panko (Japanese breadcrumbs)
1/4 cup freshly grated Parmigiano-Reggiano cheese
1/4 cup ricotta cheese
1/4 cup loosely packed chopped fresh flat-leaf parsley
1 large egg
1 large egg yolk
24 slider buns or dinner rolls, split and lightly toasted
12 (1-oz.) provolone cheese slices, halved
Garnish: fresh basil leaves
Special Equipment and Other Items Needed:
Crock Pot
Preparing Meatball Sliders:
1. Stir together first 6 ingredients in a 7-qt. slow cooker; stir in 2 tsp. salt and 1/2 tsp. pepper. Cover and cook on LOW 8 hours.
2. Meanwhile, place ground chuck and ground pork in a large bowl. Add next 6 ingredients and remaining 1 Tbsp. salt and 1/2 tsp. pepper; mix gently just until blended. Gently shape mixture into 24 meatballs. (Do not pack.) Place meatballs in a single layer on a baking sheet; cover well, and chill until ready to use.
3. Let meatballs stand at room temperature 20 minutes. Carefully submerge meatballs in tomato mixture in slow cooker. Cover and cook on HIGH 1 hour or until meatballs are done, stirring after 30 minutes. (I actually cooked my meatballs about 90 minutes).
4. Preheat broiler with oven rack 7 inches from heat. Arrange bottom halves of 12 buns in a single layer on each of 2 baking sheets. Place 1 meatball on each bun;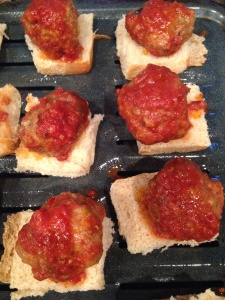 top with sauce and 1 halved provolone cheese slice. Repeat with remaining buns, meatballs, and cheese.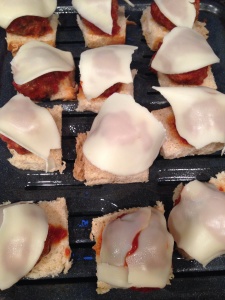 5. Broil sliders, 1 baking sheet at a time, 2 to 3 minutes or until cheese melts. Top with top halves of buns.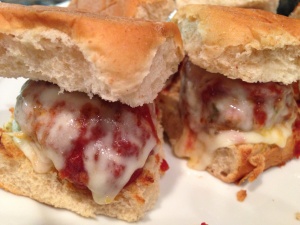 Meal Ideas:
Serve with a salad and call it a day!