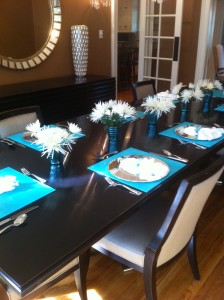 Defining Party Space
1. Determine where guests will be for each "phase" of the party. This is critical for many reasons. (1) It dictates what areas of your home you have to clean. (2) It breaks up any monotony of just being in a single location. (3) It can defines time periods of when to expect certain activities. All parties are different and some do not require any movement into different spaces or definition of time periods. For example, a football party is likely to just be in whatever room you are watching the game and all activities are generally between there and the kitchen. However, a more formal dinner party for your spouse's boss will likely be broken up into the following:
Pre-Meal/Social Time
Meal
Post Meal
If you want people to start in a specific space, place appetizers and drinks in that area or very nearby. Otherwise, people will just follow you to the kitchen and that's where the party will be.
Remember, there is no right or wrong way to do this. It is all your preference. But if you have a plan in advance, you are prepared. If it is a beautiful day, have drinks and appetizers on the deck or patio and then move inside for dinner. If you have a finished basement with a bar, there's no reason not to have food and drinks there while watching a big game. The possibilities are endless, you just have to figure out where you and your guests will be most comfortable!
2. Integrate any 'theme' you have into the space. Now, when we say theme, don't immediately think $2 paper decorations hanging on the wall (although there is nothing wrong with that). Your theme may be watching the game, a backyard BBQ, or a dinner to impress someone. It also may be a luau, Halloween costume party or something else in that arena. Whatever it is, make sure the space you are using reflects what ambience you are trying to set.
3. Think through all the places your guests may wander. This is important to make sure they are presentable. Obviously, this includes whatever bathroom(s) you will be leading them to, your kitchen, the front door area, wherever you plan on placing coats and purses, etc. If you are having a really big party and won't be able to keep track of everyone and you will have people you don't know or barely know in your home, there is nothing wrong with roping off stairs to other levels of your home to help indicate they are off limits.
Next step: Menu Planning