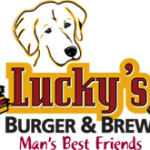 Near my home, there is a large development called Town Brookhaven. It has a myriad of retail stores and restaurants but has missed just a great burger joint.
Well, wait no more, Lucky's Burger and Brew has opened and it is just perfect!
We've eaten there twice already and the service and food have been spectacular. Best part is that Lucky's is a restaurant that proclaims its burgers in its name and they do NOT disappoint. They make burgers the old-fashioned way, by hand, with an 80/20 blend, served with fresh ingredients on super soft bread – challah in Lucky's case.
The burgers are cleverly named and appointed based on dog breeds and can be served with beef, turkey, black bean or chicken breast. So far, my family has tried the Chihuaha (green chiles, pepper jack, chipotle mayo and guac which I had on a black bean burger – awesome!), Memphis Blood Hound (red onion, cheddar, candied bacon and bbq sauce), Georgia Dawg Pounder (fried pimento cheese ball and red pepper mayo – that's right, I said fried pimento cheese ball that just oozes all over your burger), and the Build Your Own for my 11 year old who is a bit more picky.
The French fries and sweet potato fries are both perfect. It's rare you order sweet potato fries that are not soggy and have great flavor. These are amazing and are even served with a blue cheese sauce for dipping…phenomenal!
We also tried the queso with homemade potato chips as well as the FRIED PICKLES! Both were awesome. My youngest devoured the mac 'n' cheese too!
What was even more amazing was the time the owners, Diane and Ernie, as well as the GM, Pete, spent so much time making sure we enjoyed the meal. They even convinced us to try the warm, homemade brownie with vanilla ice cream. Oh my!! Gone in just a couple of minutes.
When we walked up there for the second meal in less than a week with our dog and got caught in an Atlanta summer thunderstorm, they even gave us a ride home and a treat for Sophie. Now, THAT is how an old-school burger joint is supposed to be run.
When you go to Lucky's Burger and Brew, because you know you'll want to, be sure to ask for extra napkins. You'll need them as the juice from the hand-formed burgers drips down your arms. Tastes like an amazing backyard burger with the pleasure of someone else serving it to you while you relax with a nice cold brew!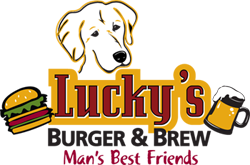 When are we having our next "planning meeting"? I think I know where we should meet! ~Denise