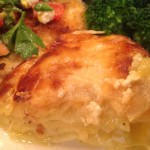 Father's Day is typically a day when most of us honor the man in our life that we call, "Dad." It's also a day to recognize the father of our children or that special someone who has been an important father figure in our lives.
It's a day to reflect if your dad is no longer with you and to honor his memory, think about what was…with the love and peace of what is.
The single moms should also be celebrated as they pull double parenting duty…all day, every day! So to all of you out there who fall into one of these categories, we say, "Happy Father's Day!"
However you spend your day, chances are there will be some sort of meal involved. We'd like to share our favorite "Meat and Potato" dishes to help you celebrate or honor "Dad"…whoever and wherever he is!!!
MEAT
Smothered Pork Chops with Onion and Thyme
Flank Steak with Lime, Honey and Garlic
Rack of Lamb with Mustard and Panko
Filet Mignon Stuffed with Spinach and Manchego
POTATOES
Roasted Red Potatoes with Rosemary and Garlic
Oven Fries with Paprika Parmesan Salt
Roasted Red Potatoes with Dijon Mustard