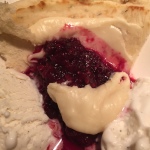 After a yummy dinner of grilled chicken wings, my eldest daughter asked me to whip up something for dessert. Now, to understand the craziness of this request you have to understand that (a) I don't make dessert and (b) I don't have a sweet tooth.
I laughed it off and said I'd do something if she washes the dishes. Unfortunately, she agreed!
Now, one of our favorite 'mother-daughter' things to do is to watch the television show, Chopped. We love the creativity of the awkward ingredients and what the contestants do to put them together into something edible. Well, here goes…off to the freezer.
I had some blackberries I had frozen because they were going bad faster than we could eat them, some vanilla ice cream, white chocolate chips and Naan all in the freezer. That's about it.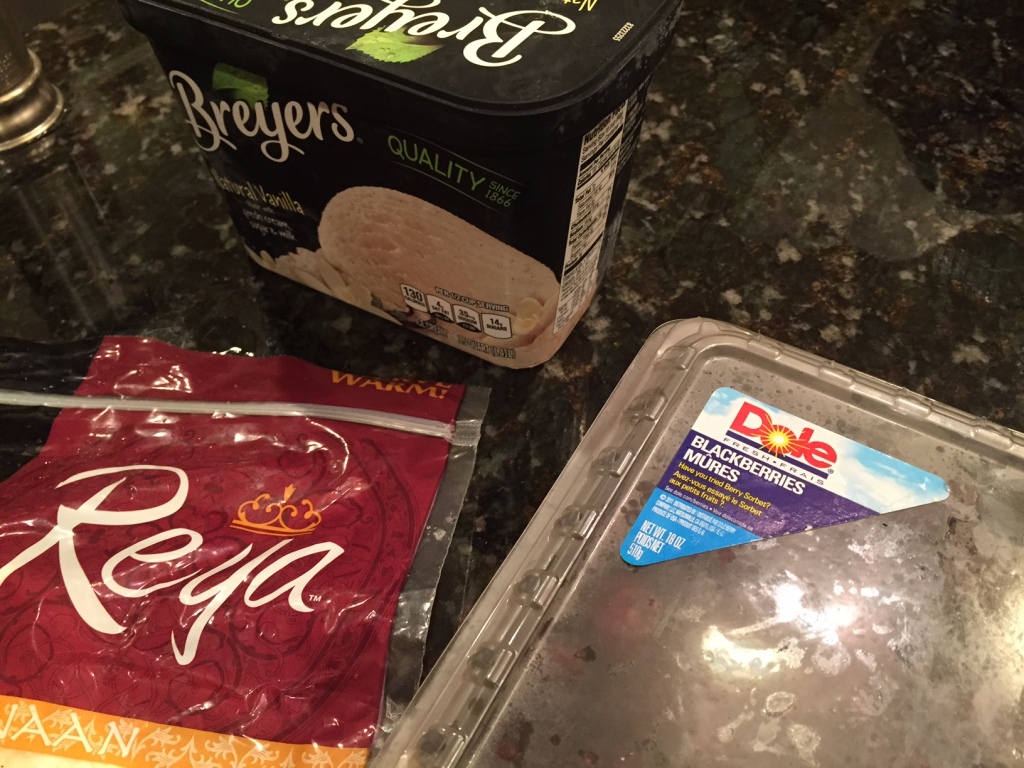 My daughter told me I had 20 minutes to pull it together….here goes…I don't think I 'transformed' the ingredients very much but this is all I had on a tired Friday night.
White chocolate Naan with Blackberry Sauce
Ingredients:
1 piece of Naan cut into quarters
1/2 cup white chocolate chips
3 T milk/cream
1 cup blackberries
1/4 cup sugar
1/2 lemon juice
1 T vanilla
Vanilla ice cream
How to make white chocolate naan with blackberry sauce
Warm the naan either in a low temperature oven or warming drawer.
Place the blackberries with the sugar and lemon and vanilla into a sauce pan. Heat on medium high until the berries break apart and sugar melts. The longer you cook them, the more the berries will break up. Your choice. I did about 7 minutes.
While the berries are cooking, place the white chocolate chips and milk in a double boiler and heat until the chocolate is melted.
Once everything is ready, spread some white chocolate on a piece of Naan, top with the berries and ice cream and maybe a bit more white chocolate. Serve.
It tasted great. When I brought it to my daughter, she started acting like a judge and asked me, 'what have you prepared for us today?' Oh my!