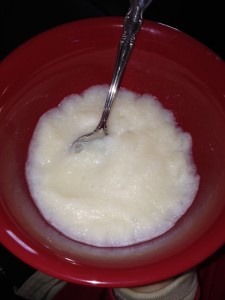 My mom was born and raised in North Carolina. The first time it snowed in Atlanta after we moved from Miami, she made snow cream for us. It was such a special treat and, obviously, I never forgot it. Anytime it snows, I immediately put out bowls to collect snow to make snow cream for the kids. I even took a picture of one of the bowls yesterday and sent it to my sister. She knew exactly what it is for. Brings back such special memories!!!!
Level of Difficulty: Easy
Time Required: Prep Time – 5
Ingredients:
Fresh Snow (obviously not the yellow kind)
Milk
Sugar
Vanilla
Preparing Snow Cream:
Take fresh snow and put it in a mixing bowl. Add enough milk to just moisten the snow. Add some sugar and vanilla and mix well.

Variations:
If you are an adult, you can substitute Kahlua for the milk. Just sayin'
Got Leftovers?:
It keeps well in the freezer!