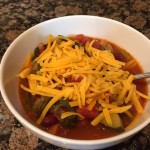 When I was trying to figure out what type of vegetarian chili to make for New Year's Day, none of the recipes I saw completely appealed to me. So what did I do? I combined several recipes and threw in a few extra ingredients for fun! The result was delicious…and spicy!! Consider yourself warned! What I love about this dish is that you can very easily make it your own depending on your specific tastes. Since it was New Year's Day, I threw in some black-eyed peas and greens. When I make it again throughout the year, I likely won't use the black-eyed peas and will add more of another type of bean.



Level of Difficulty: Easy
Time Required: Prep Time – 30 min; Cook Time – 3 hours
Ingredients:
6 T. olive oil (better yet, garlic infused oil if you have it)
2 onions, chopped
2 carrots, chopped
5 celery stalks, chopped
2 green peppers, seeded and chopped
2 red peppers, seeded and chopped
4 zucchini, cut into cubes
1 can chipotles in adobo sauce, chopped
2 T. chili powder
2 T. dried oregano
4-28 oz. cans diced tomatoes with liquid
1 can black beans, drained
1 can red kidney beans, drained
1 can chiles
1 can sweet corn, drained
1 can black-eyed peas, drained
2 bags baby kale
Shredded Cheddar Cheese (optional)
Special Equipment and Other Items Needed:
Large Pot
Preparing Vegetarian Chili:
In a large pot, heat oil over medium heat. Add onions and next 5 ingredients. Cook until vegetables are soft, about 10 minutes. Add the chipotles AND the adobo sauce, oregano, and chili powder. Mix well. Add the tomatoes and simmer, uncovered for 60 minutes. Add all of the beans, corn, chiles and kale.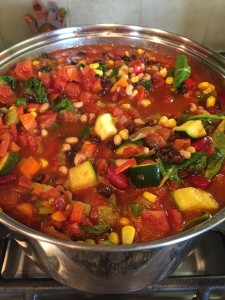 Simmer for an additional 30 minutes. Serve hot. Sprinkle with shredded cheddar cheese, if desired.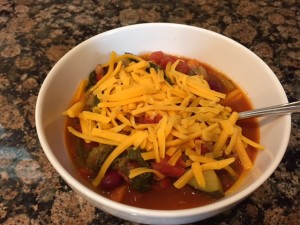 Variations:
You can use whatever beans and greens you like. I used the black-eyed peas since it was New Year's Day and every good Southern knows you need black-eyed peas and greens on New Year's Day for good luck!
Got Leftovers?:
Double bag the leftovers in freezer safe resealable bags and it will last through the winter!