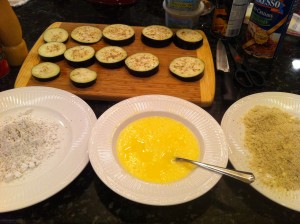 So we have a light chicken parmigiana and a traditional chicken parmigiana. There is a another great 'parmigiana' and that is eggplant. It is great as the star of the meal or as a side dish. Even if you don't like eggplant, you are likely to really enjoy this!
Level of Difficulty: Moderate
Time Required: Prep Time – 20min; Cook Time – 30 min
Ingredients for 4 servings:
1 large eggplant (or 2 if this is the main course)
1 cups flour
1 eggs
1/4 cup water
1/2  cup regular Italian bread crumbs
1/2 cup panko bread crumbs
Olive Oil to coat the bottom of a pan
1 lbs fresh buffalo mozzarella
2 cups marinara sauce (homemade or your favorite jarred sauce)
Special Equipment and Other Items Needed:
How to make eggplant parmigiana:
Wash your eggplant and then cut it into about 1/2 thick slices. Salt and pepper both sides and then let rest for about 15 minutes. This will pull some of the water out of the eggplant so it is not mushy when you cook it. This is an important step, so don't skip it.
While you are waiting, you can prepare your battering table.
Place 3 shallow bowls out and place flour (+salt and pepper) in one, beaten eggs (+water+salt and pepper) in another, and bread crumbs in the third.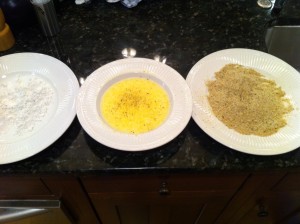 Take a paper towel and pat the eggplant dry. Then you will dredge each piece to coat it in flour, then the egg wash then the bread crumbs.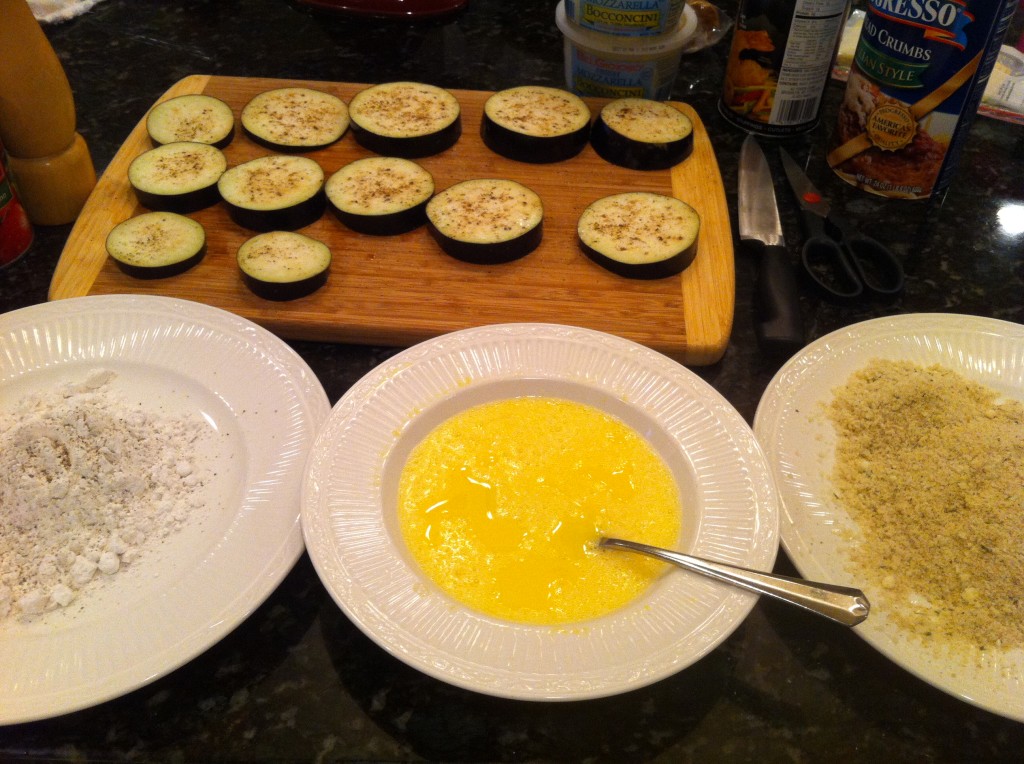 You'll want to cover the bottom of a skillet with olive oil and turn over medium high heat. When the oil is hot enough, add 3-4 pieces of eggplant. Cook about 3 minutes on each until browned.
While the first batch is cooking, place about 1 cup of marinara sauce on the bottom of each of your baking dishes. As the eggplant is done, set in the baking dish.
Repeat for all the eggplant.
Top each slice of eggplant with a piece of fresh buffalo mozzarella about 1/4 inch thick and a few tablespoons of marinara.
Bake at 350 degrees until the cheese is melted and bubbly.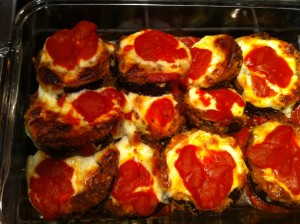 Serve over some pasta and with a nice green salad!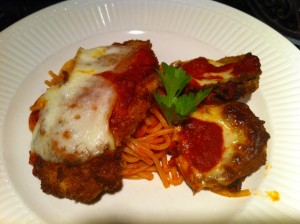 Shown here with some chicken parmigiana too!