I got my first cast iron skillet for my birthday in April. I've always wanted one, but never got around to buying it for myself. It sat in my cupboard for months because I was actually afraid to use it. It seemed to be so "high maintenance" but my friend Kim assured me that I was more than capable to cook with it. I finally got up the courage to use it a few months ago and made tilapia, at Kim's suggestion. Then it sat again for many weeks until I used it to make chicken and waffles for my son's birthday.
Finally, a light bulb went off! I remember Kim telling me that she uses her pan anytime she wants to make a nice crisp coating on whatever she is making. Over the weekend, I used it to make hash browns and today I made parmesan sage pork chops. Those pork chops are always good, but the cast iron skillet made them AMAZING!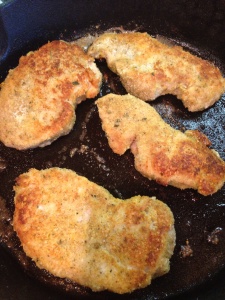 If you don't have a cast iron skillet, you really should get one. What it can do for your food is truly unbelievable. They are not that intimidating and they are easier to clean than I had thought. Put it on your Christmas list..you won't regret it!