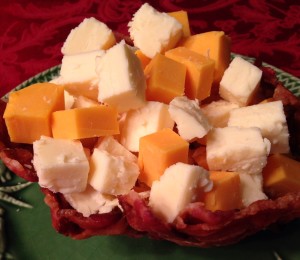 For a while now I've been wanting to make a Bacon Bowl. It wasn't exactly the kind of thing I would make on a regular night, so I decided to save this for a special occasion…Baconfest – The Sequel!
It was easier (and messier) than I thought it would be. Here's how I did it as well as some tips that I figured out in the middle of the process…
How to make a bacon bowl
1. Line a large microwave safe plate with parchment paper. Tip: Cut off excess edges of the parchment paper. My plate was so big that the excess paper hit the door of the microwave when it spun, causing the bacon to move.
2. Put 8 or 10 (depending on the size of your plate and microwave) slices of bacon side by side on the parchment paper. Make sure it's an even number. Fold back every other piece halfway and horizontally place another piece of bacon. Return the bacon to its original position.
3. Now, fold back the other pieces of bacon and place a strip of bacon horizontally.
4. Repeat to create a lattice.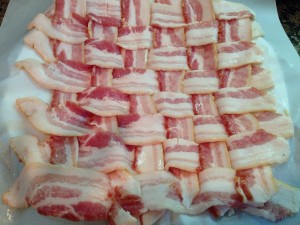 5. Place bacon in the microwave and cover with a paper towel. Cook on 60% power for 10 minutes. Remove the paper towel and use more to dry the bacon. Tip: This is greasy. Have your trash can nearby so you're not dripping across your floor.
6. Put a dry paper towel on the bacon and cook on 60% power for an additional 10 minutes. Carefully remove the plate from the microwave. Tip: Use oven mitts. It's going to be hot.
7. Get a large measuring cup (I used a 4 c. glass measuring cup from Pampered Chef which I'm sure many of you have)! If you don't have this, use something similar in size and you will be just fine. Tip: Put paper towels underneath your measuring cup to catch the greasy drippings.
8. CAREFULLY invert the bacon lattice over the measuring cup. Place back in the microwave (with the paper towels underneath) and cook for about 10 more minutes on 60% power or until the bacon is done and holds its shape.
9. Using oven mitts, remove the bacon and place on paper towels to cool.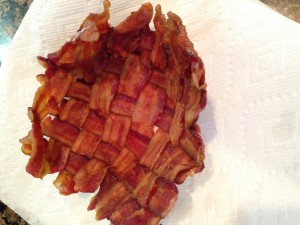 10. Turn it back over and fill it with whatever yumminess you like. I chose cubes of delicious cheese!!!