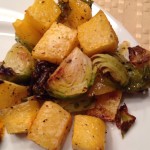 I'll be honest. I've never eaten or cooked a rutabaga. I was told that it is similar to a turnip. GAME ON! I love turnips and know exactly how to make them. I knew Melissa would want to throw in something green so I decided to make roasted rutabaga and Brussels sprouts. Thank you, Kayla for turning me on to this amazing vegetable!
Level of Difficulty:Easy
Time Required: Prep Time – 15 min; Cook Time – 45 min
Ingredients:
1 rutabaga
2 T. olive oil
1 tsp. each salt, pepper and thyme
12 Brussels Sprouts, cleaned and quartered
1 T. olive oil
1/2 tsp. each salt, pepper and thyme
Preparing Roasted Rutabaga and Brussels Sprouts:
Preheat oven to 425 Degrees. Cut the skin off of the rutabaga and chop into bit size pieces. Put in a large mixing bowl. Add 2 T. olive oil, 1 tsp. each salt, pepper and thyme.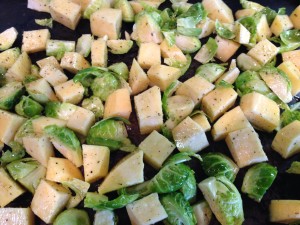 Mix well and put on baking sheet. Bake for 15 minutes. Meanwhile, prepare the Brussels sprouts. After they are quartered, put in a large mixing bowl and add oil, salt, pepper and thyme. When the rutabagas have cooked for 15 minutes, add the Brussels sprouts. Continue cooking for 30 minutes. Serve hot.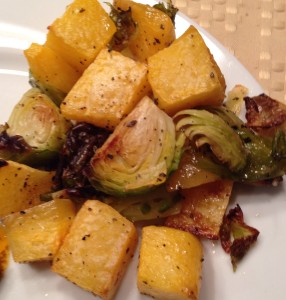 Important Tips:
Don't cook them together for the whole time like I did. The Brussels sprouts really do take less time and will start to get too crispy if you cook them for 45 minutes.
Meal Ideas:
I served this with chipotle beer braised short ribs and blue cheese filled puff pastry with blackberry sauce. Delish!!
Huh, what do you know! Denise roasted a root vegetable! ~Melissa

I roast them all the time, silly goose! ~Denise

Exactly my point, Deary. ~Melissa

Whatever! I never roasted a rutabaga so one new thing at a time for me. I still want to serve an edible dinner. ~Denise