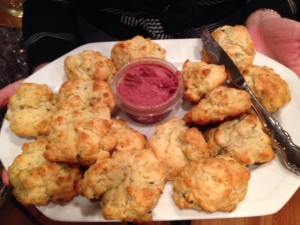 Blue Cheese Biscuits with Pinot Noir Butter is the type of dish I expected our good friend, Andrea to bring to Winefest. She is a great cook and always comes up with recipes that are a little more "sophisticated" than I do. Pinot Noir Butter? Really? How could I have missed this? In a word…"Fantastic!" She got it off of yummy.com
Level of Difficulty: Difficult

Ingredients:
BLUE CHEESE BISCUITS:
[slightly adapted from my cranberry biscuits, which were adapted from bon appetit]
makes about 20 round biscuits
3 cups all-purpose flour
1/2 teaspoon granulated sugar
4 teaspoons baking powder
1/2 teaspoon salt
1 teaspoon baking soda
1 1/2 sticks (3/4 cup) cold butter, cut into pieces
1 1/4 cups milk (whole or 2%)
6 ounces gorgonzola cheese (or your favorite blue), crumbled
PINOT NOIR BUTTER:
[slightly adapted from Bobby Flay's Bar Americain]
1 stick (1/2 cup) unsalted butter, softened to room temperature
1 1/2 cups pinot noir
1/8 teaspoon sea salt
pinch of black pepper
Preparing Blue Cheese Biscuits with Pinot Noir Butter:
FOR THE BISCUITS:
Preheat oven to 425 degrees F.
In a large bowl, combine flour, sugar, salt, baking powder and soda, and whisk until combined. Using a fork, pastry blender or your hands, add butter pieces to the flour and mix until coarse little crumbles remain. Add in crumbled gorgonzola. Pour in milk and stir with a spoon until just combined, not overmixing. Use your hands if needed to bring the dough together – I did.
Use a 1/4 cup measure to drop batter onto a nonstick baking sheet, or press dough on a sheet of parchment paper or cutting board, then using a biscuit cutter to shape the dough into rounds. Bake for 10-12 minutes, or until biscuits are golden brown.
FOR THE BUTTER:
Bring the wine to a boil in a saucepan (be careful so it does not boil over!) and cook until reduced to just under 1/4 cup – this took me about 15 minutes. Let cool completely.
Once wine is cool, combine with softened butter, salt and pepper, and mix thoroughly to combine. I had some issues with the butter absorbing all of the wine, so what I did was place the entire bowl in the fridge, and pop it out every 15 minutes or so, mixing really well with a spoon until all of the wine mixed in. Once mixed completely, chill in the fridge for about 5 minutes, then form into a square or log with your hands and wrap in plastic wrap. Refrigerate until ready to use – best if used after 2-3 days so the flavors can mesh!