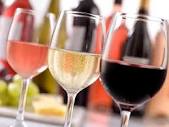 For those of you have been following us since the summer, you will know that we kicked off our "Fests" with Baconfest in July. We followed that up with Beerfest in October and then Bourbonfest in December. As the one year anniversary of McNacks approaches this weekend, it only makes sense to celebrate with Winefest.
We have asked that each person/couple attending bring a dish that is in some way made with wine. The wine can be in a sauce, marinade, white, red, port….anything! Anyone who wants to participate in the actual tasting is to bring a bottle of wine in a bag so the label is hidden. They will be writing down their wine, vintage, year, description and price on a card so people can know what types of wine they enjoyed and what they would go out and buy on their own.
For the tasting, each bottle will have a number one it. We will separate the whites from the reds. Each guest will be given their own tasting sheet with the an area to make notes about appearance, aroma, flavor. We will have everyone vote for their favorite white and red. It will be interesting to see if the more expensive wines are actually the favorites!
As always, recipes to follow! Cheers!