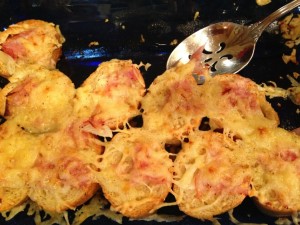 Our good friend Maria brought this Drunken Cheesy Bread to Winefest. I can promise you that it tasted as good as it sounds. It would be great as an appetizer…but it's also one of those dishes that would be good at about 1:00 a.m. after "a long night" :).
Level of Difficulty: Easy
Time Required: Prep Time – 10 min; Cook Time – 15-20 minutes
Ingredients:
Butter for Pan
1/2 small yellow onion, thinly sliced
3/4 c. white wine
1 1/2 c. grated Gruyere or high quality Swiss
1/2 baguette, cut into 2 in. slices
1/8 pound thinly sliced cooked ham
1/2 tsp. black pepper
Preparing Drunken Cheesy Bread:
Heat oven to 400 Degrees. Place bread in a lightly buttered casserole or baking dish. Scatter the onion and ham over the bread. Pour the wine over the onion and ham and sprinkle with the pepper and cheese.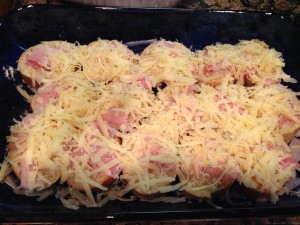 Bake until cheese has melted and begins to brown on the edges, about 20 minutes. Spoon onto individual plates and enjoy!