My neighbors, Barrett and Kimberly are both amazing cooks. When I say "amazing" I really am not exaggerating. Everything they make causes a happy dance in my mouth. Anyway, they brought over meatballs in red wine gravy for Winefest. As always, they did not disappoint! It's a good thing there weren't any leftovers because a few of us would have eaten them around midnight!!! The recipe was adapted from 1977 "Tea Time at the Masters" cookbook.
Level of Difficulty: Easy

Ingredients:
Meatballs:
3 pounds ground beef
1/2 cup seasoned bread crumbs
2 onions, minced
4 teaspoons horseradish
4 garlic cloves, crushed
1 1/2 cups tomato juice
4 teaspoons salt
Pepper to taste
Red Wine Gravy:
1/4 cup butter or margarine
2 onions, chopped
1/4 cup flour
3 cups beef broth
1 cup red wine
1/4 cup brown sugar
1/4 cup ketchup
2 tablespoons lemon juice
2 teaspoons salt
Pepper to taste
Preparing Meatballs in Red Wine Gravy:
Combine all ingredients for meatballs and shape into one inch balls. Place on cookie sheet with sides and brown in oven for 10 minutes at 450. Drain well.
For sauce, melt butter in large skillet. Sauté onions until golden. Blend in flour. Add broth, stirring until smooth. Stir in remaining ingredients and simmer over low heat for 15 minutes. Add meatballs to hot sauce.
Serve in chaffing dish. Yields about 100 meatballs.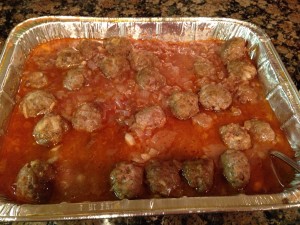 Important Tips:
Note: May freeze meatballs in gravy. To serve, heat covered in 300 oven.