Well THAT was a fun night!! I think the consensus is that Winefest was the biggest hit of all the "fests" to date! Everyone hit a home run with the food this time! In the coming week, I will be sharing the recipes for Drunken Cheesy Bread, Amazing Chicken in Garlic White Wine Sauce, Chocolate Red Wine Cake….just to name a few! There was such a great mix of food and no one went hungry.
The wine tasting was great fun! We had 2 bottles of white wine (a chardonnay and a sauvignon blanc), 9 bottles of red (red blends, pinot noir, cab, zinfandel and merlots) and a pinot beer to try. The prices ranged from $8-$20. The tasters were really getting into it.
Of course, comments were made that the "dump bucket" was my big Alabama pitcher…but that's neither here nor there.
When the tasters were done filling out their tasting cards, they put them in a holder so we could see which wines won the tasting.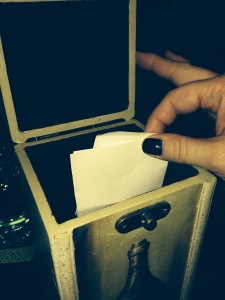 As it turns out, this crowd is not much into white wine. Both whites came in pretty low in the overall taste test. The reds, however, were all over the map. All of the wines were rated high and low by the guests. It goes to show you that the taste of wine truly is a personal thing!