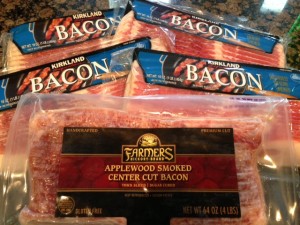 Baconfest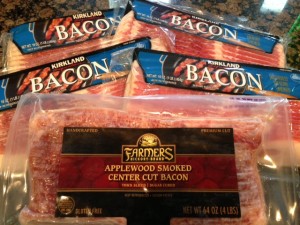 I'm sure you are all wondering how exactly "Baconfest" came to be. I'll be honest, I'm not really sure myself. I know we were talking a while ago with some friends who love bacon and if memory serves, the idea of Baconfest just kind of morphed into an actual event. We had 25 people over. Some people brought dishes although it was not expected. At the 1st Baconfest, there WERE no expectations!!
Obviously the word "bacon" has some negative health connotations associated with it. Most of you who know me know that I try to live a relatively healthy lifestyle without going overboard, but you also know I love entertaining. When you're cooking for a group it's all about taste. I can assure you that during Baconfest, we did our best to be as healthy as possible. Here's how:
1) We drank red wine (VERY good for the heart).
2) We served fruit AND vegetables…and no they were not ALL wrapped in bacon.
3) We baked most of the bacon in the oven instead of frying it in its own grease. That would have been gross.
4) We served grilled chicken. Yes, it was wrapped in bacon and rosemary, but still…. it was a grilled non-fatty meat. We get credit for this one.
5) We ate spinach salad. That's right…SPINACH salad. Was it served with warm bacon dressing? Technically, yes. That's not the point. The point is, leafy greens people!!!!
The Menu:
Bacon Wrapped Jalapeño Poppers
Baked Potato Dip
Pizza with Candied Bacon
Spinach Salad with Roasted Garlic and Warm Bacon Dressing
Grilled Chicken with Rosemary and Bacon
Vegetables and Dip
Fruit
Maple Cupcakes with Bacon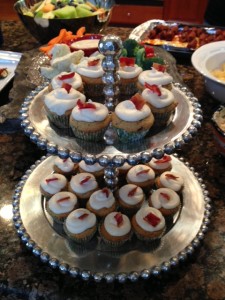 How to plan a party – baconfest
The Process:
THE DAY BEFORE Baconfest, I did one last store run to get my fresh produce. When I got home, I started cooking! I made the candied bacon for the pizza and Jalapeño Popper Dip. I also broke the green beans into appropriate sizes and stored them in a Ziploc bag. Since I am someone who likes to do as much as possible ahead of time, I also went ahead and prepared the bacon wrapped jalapeño poppers as well as the chicken, but didn't cook them. I will say that I should have worn gloves when I was deseeding about 20 jalapeños. My fingers were burning by the time I was done!
Since Baconfest was the beginning of 5 days of entertaining, this is the day I did a good dusting of the house and cleaned the floors. The cats' litter box was changed, and the last load of laundry done. I am a big believer in not doing chores when friends and family are around. I want to have as much fun as they are and prefer to spend my time with them, not cleaning and doing laundry!
THE DAY OF Baconfest, was a breeze. I can say this because all of my planning and list making paid off. I did a final cleaning of the bathrooms and deck. My son swiffered the floors (when you have animals, this really should be every time you have any guests over), and my daughter got the dog's nose prints off our windows. I cleaned this kitchen counters, which, like the floors, were going to be done on a very regular basis this week.
I prepared the green beans before going to get a pedicure. Both kids then went with me to grab my sister and niece from the airport. Let the fun begin! Pedicures for the rest of the girls and a haircut for my son.
When we got home and the suitcases were put away, it was time to get ready for Baconfest. Wait…before we did that, I went ahead and marinated that pork for the COOKOUT WITH FRIENDS FROM THE OLD DAYS which was the next night. That took 5 minutes.
I made the smokies and then realized I forgot the vegetables for the vegetable tray. Fortunately, my sister went to the store while I finished the smokies.  When all of that was done, I got out the plates, napkins and utensils and put the serving pieces in their appropriate places on the counter.
About an hour before the guests arrived, I roasted the garlic for the salad. I got the beans, chicken, smokies, poppers and dip out of the refrigerator to bring them up to room temperature before cooking them. I also prepared the vegetable tray.
About 20 minutes before, I put the smokies, dip and poppers in the oven. After people got here, we cooked the pizzas, made the salad, cooked the green beans and grilled the chicken since those were more "dinner items". As soon as the first round of poppers and smokies were eaten, the second and third batches were made. It was a day that I was very thankful that I have two ovens.
I did not serve a sit down dinner since just about everything was finger food and it was more of a "grazing" type of atmosphere.  There was nothing formal about Baconfest, I can assure you. It's amazing how a simple conversation that started months ago could turn into something so fun. The food was amazing, if I do say so myself! Once our arteries unclog, we will start planning Baconfest: The Sequel!
Want to see more of this series? Here are the other parts:
Part 1 Original
Part 2 Getting Organized
Part 4 Dinner for 13
Part 5 July 4th Dinner
Part 6 Birthday party for 16