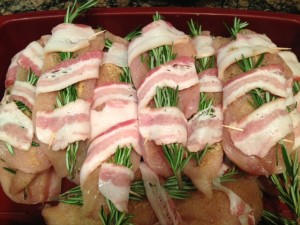 Grilled chicken is a staple in our house because it is delicious, goes with everything and doesn't take a lot of time to prepare.  Sometimes I just season it with dry rubs or spices, other times I marinate it before throwing it on the grill. For Baconfest, I wrapped it in bacon with a rosemary spring. I can't even begin to tell you how delicious it was!
Level of Difficulty: Easy
Time Required: Prep Time – 10 min; Cook Time – 15 min
Ingredients for 4 servings:
4 tsp. garlic powder
4 boneless, skinless chicken breast halves
4 springs fresh rosemary
4 thick slices bacon
2 tsp. salt
2 tsp. pepper
Preparing Grilled Chicken:
Preheat grill to medium-high heat. Sprinkle 1 tsp. garlic powder, 1/2 tsp. salt and 1/2 tsp. pepper on each chicken breast.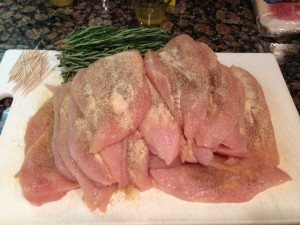 Lay one rosemary sprig on top of the chicken and wrap the bacon around the chicken to hold the rosemary in place. Secure with a toothpick.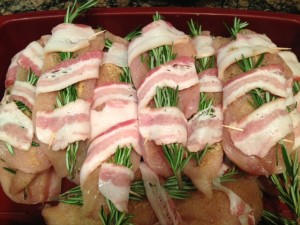 Cook chicken approximately 8 minutes per side until the internal temperature reaches 165 Degrees.
Important Tips:
Whenever you cook bacon on the grill, the grease can cause the fire to flare up. Stick close by and don't leave the grill unattended.
Meal Ideas:
This will go well with just about any other side dishes you make. Try it with Noodle Rice and Sauteed Zucchini Ribbons for a complete meal!