Mustard Grilled Chicken is another one of Williams-Sonoma's recipes. I will tell you that I am not a mustard fan unless it's Dijon mustard in a vinaigrette or a marinade, then I'm all about it! This chicken has just the right flavor! Make the marinade in the morning and pop the chicken on the grill in the evening. It couldn't be easier!!
Level of Difficulty: Easy
Time Required: Prep Time – 5 min; Marinate time: 2 + hours; Cook time; 30-35  minutes
Ingredients:
2/3 c. Dijon Mustard
2 T. cayenne Pepper
1/4 c. vegetable oil
2 T. white wine vinegar
1 broiler chicken, split (as many of you know, I almost always use boneless, skinless breasts)
Preparing Mustard Grilled Chicken:
Stir together 1/3 c. of the mustard, 1 T. cayenne pepper, vegetable oil and vinegar. Place chicken in ziploc bag and pour in the mustard mixture. Press out the air and seal tightly. Massage gently to distribute the marinade. Refrigerate for at least two hours, turning the bag occasionally.
Prepare grill for indirect heat cooking. Combine the remaining 1/3 cup mustard with the remaining 1 T. cayenne pepper. Remove chicken from marinade. Place the chicken, skin side down on the grill (if using chicken with skin). Grill, turning frequently for about 25 minutes. Turn the chicken skin side up and brush it with the mustard-cayenne mixture. Cook about 10 minutes longer, until the center is no longer pink.
*Note: If you are using boneless, skinless breasts, brush the mustard-cayenne mixture on both sides. The chicken will also cook faster than the above given times.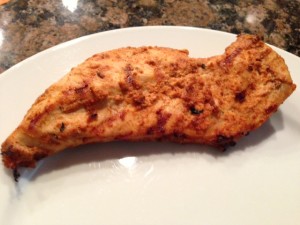 Important Tips:
The longer you marinade, the more flavor your chicken will have!