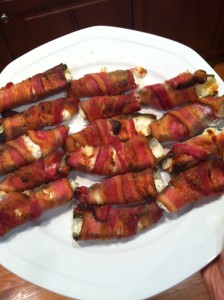 I absolutely love jalapeños and everything tastes better wrapped in bacon, right? I found this Bacon Wrapped Jalapeño Poppers recipe on allrecipes.com  (submitted by MELISSAGAR). The first time I made it, I grilled the jalapeños as the recipe says. It was a little difficult, especially when I was turning them over. Some of the cream cheese started oozing out. I was willing to give it another shot a few months later for a 4th of July party we were having. Of course, right when I was about to start grilling, it started to rain sideways as it does from time to time in Atlanta. I hit Plan B…the broiler! They came out perfectly and there was no turning involved or gooey cream cheese on my grill!
Level of Difficulty: Easy
Time Required: Prep Time – 10min; Cook Time –  25 minutes
Ingredients:
8 fresh jalapeño peppers, halved lengthwise and seeded
1 8 oz. container of cream cheese
1 package of bacon
Special Equipment and Other Items Needed:
broiler pan
Preparing Bacon Wrapped Jalapeño Poppers:
Preheat the broiler. Spray the broiler pan with non-stick cooking spray. Spread the cream cheese to fill the jalapeño halves. Wrap with bacon and place seam side down on the broiler pan. Place in broiler until bacon is crispy, about 15-20 minutes.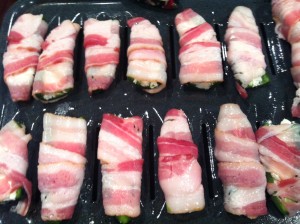 Important Tips:
When taking out the seeds of the jalapeños, make sure you wear gloves. If you get the seeds on your fingers and then touch your eyes, you will be very sorry!!!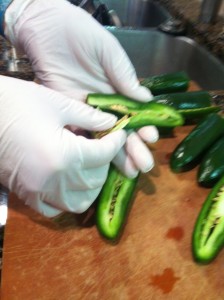 I've been told (on fairly good authority) that a jalepeno that has more tiny, light brown lines on them (they kind of resemble a crack in the pepper), the spicier the pepper is. One that is smooth with none of these is supposed to be less spicy. -Melissa
Variations:
You don't have to stick with cream cheese, that's just the traditional cheese used in jalapeño poppers. Mix it up with cheddar or another cheese of your choice. Not spicy enough? Add horseradish to your cream cheese.