So, Denise's bacon wrapped jalapeno poppers are really amazing. However, if you want something a tad bit more healthy or maybe you just want a little crunch, try these. They are simple and have a really nice flavor.
Plus, I'm trying to eat up all the jalapenos my little front yard pepper plants are still producing so this is a great way to enjoy them.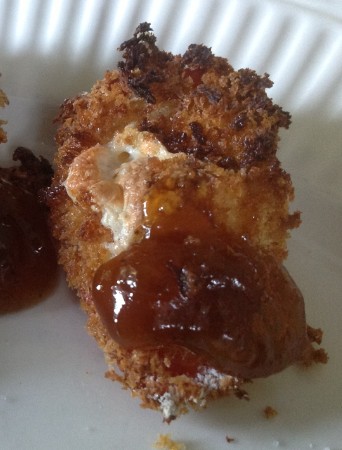 Level of Difficulty: Moderate
Time Required: Prep Time – 15min; Cook Time – 20 min
Ingredients for 4:
8 small jalapeno peppers
Cheese of your choice. I had some extra small balls of fresh mozzarella that I used for this one but really any cheese will work.
2 eggs
1 cup flour
1 cup panko break crumbs
salt and pepper
Mango chutney or some kind of chutney of your choice
Special Equipment and Other Items Needed:
Parchment paper makes for easy cleanup in case the cheese leaks but is not necessary
How to make baked stuffed jalapeno poppers:
Preheat oven to 350 degrees. Take out a baking sheet and cover with parchment paper if you have it.
Slice the jalapenos in half lengthwise and scoop out the ribs and seeds. Fill with the cheese of your choice. I just used some fresh mozzarella this time but this would be good with a mixture of low-fat cream cheese and cheddar. It would also be good with blue cheese, goat cheese, alouette, etc.
In 3 small separate bowls, place the flour in one, the panko in another and then the eggs with a little bit of water in the third (scramble them together). Add a little salt and pepper to each bowl.
Dip the jalapeno in the flour, then egg then panko and place on the baking sheet. Repeat for each jalapeno half. When done, bake in the oven for 20-25 minutes until brown and crispy.
Serve with the chutney for a nice sweet taste to go with the pepper.
Variations:
Just like changing the cheeses, you could also add a bit of bacon to the cheese or other spices to the panko / flour bowls. Be creative. You really just can't go wrong and that's when it gets fun in the kitchen when you create on your own.