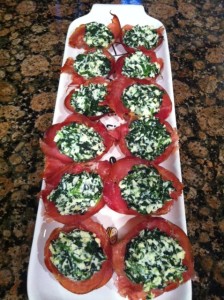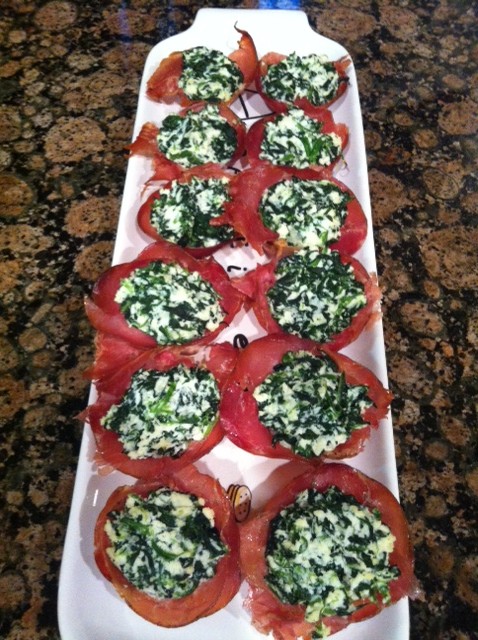 A few years ago, I wanted to try a new appetizer for Christmas Eve dinner. I found these prosciutto cups with spinach online at allrecipes.com (submitted by Frankie Feathers). What attracted me to the recipe was how pretty the cups look when they are done. They were a big hit! Of course, I added a little extra garlic and some salt because I will do that to almost any recipe! I serve them a few times a year for special occasions!
Level of Difficulty: Moderate
Time Required: Prep Time – 15 min; Cook Time – 15 min
Ingredients:
5 garlic cloves, minced
1 cup frozen chopped spinach, thawed and squeezed dry
1/2 lb. prosciutto thinly sliced (skin on)
1 cup ricotta
Salt to taste
Special Equipment and Other Items Needed:
Mini muffin pan
Preparing Prosciutto Cups with Spinach:
Preheat oven to 350 degrees. Spray the muffin pan with non-stick cooking spray. In a medium bowl, mix together the garlic, spinach and ricotta cheese until blended. Add desired amount of salt. Set aside.
Cut the prosciutto strips in half (If you have small pieces of prosciutto, you do not have to cut them). Place two strips of prosciutto into the muffin pan crisscross so that they are overlapping and line the bottom but there is some meat hanging out over the sides. It should resemble a flower.
Fill each cup with about a 1 1/2 tablespoons of the cheese mixture so the cup is full and rounded on the top. The filling should look like the center of a flower!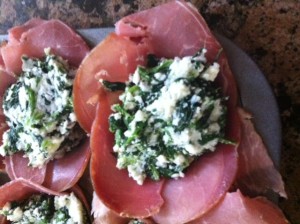 Bake for 10-15 minutes, until the prosciutto is slightly browned and stiff to the touch. Let sit for about 5 minutes before removing from the pan. The cups should be able to keep their shape. Serve warm.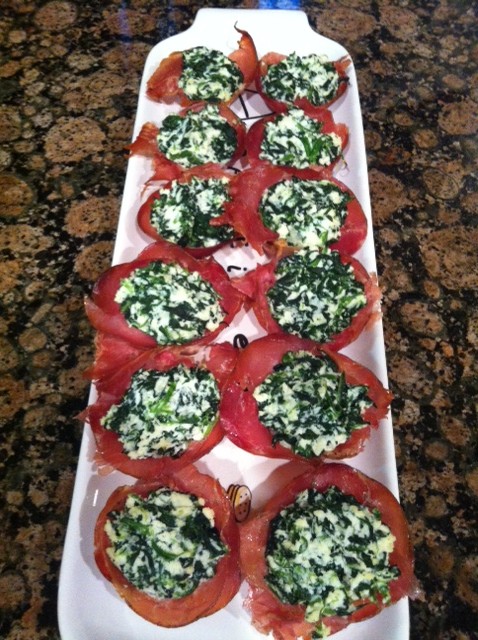 Important Tips:
Make sure you do not see the bottom of the muffin pan when you are putting the prosciutto down. A hole in the prosciutto will mean there is a hole in a cup and the filling might fall out!
Denise, you've been holding out! You've never made these for me and they sound delicious!! -Melissa