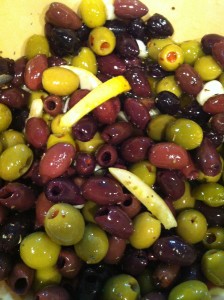 I love olives. What I mean by that, is that I can eat any olive, anyway and on anything! Yes, I was one of those kids who took black olives out of a can and stuck them on my fingers and ate them one by one. I tried it with green olives, but first you had to suck the pimento out before putting them on your fingers…and that's just gross! Anyway, I wanted to make my own marinated olives with garlic and lemon one day and found this in "Appetizers" magazine a few years ago.
Level of Difficulty: Easy
Time Required: Prep Time – 15 min; Marinate time: 2 days
Ingredients:
2 cups black and green olives, rinsed and drained
1/2 cup of olive oil
2 3 x 1/2 in. strips lemon peel
1/2 cup fresh lemon juice
4-6 cloves of garlic, sliced
2 tsp. fresh oregano or 1 tsp. dried
1 bay leaf
1/2 tsp. crushed red pepper
How to make Marinated Olives with Garlic and Lemon:
Combine all ingredients in a jar with a screw top lid or secured tupperware container. Cover and shake to coat the olives. Marinate in the refrigerator for 2 days, stirring occasionally. Before serving, let the olives stand for about 2 hours at room temperature. Drain olives, discard bay leaf and marinade.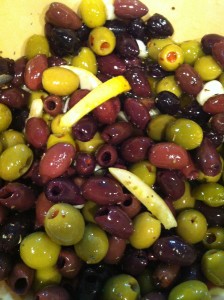 Important Tips:
Make sure you leave enough time to bring the olives to room temperature before serving. Otherwise, you will have an oily mess on your hands!
Variations:
To change up how much kick is in the olives, adjust the red pepper to suit your particular taste. If you like the concept of marinated olives but don't want to make your own, go to Costco and buy the Mediterranean appetizer tray for $14.99. There are 4 different kinds of olives in there, feta cheese, artichoke hearts and peppadew peppers!