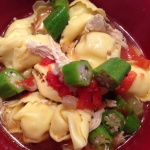 I think I have already established the fact that when it's cold, I make soup! Now that my family eats homemade chicken noodle soup, I thought I'd go out on a limb and make this Southern Italian Chicken Soup that I found in Southern Living. I loved everything about this soup and it was my lunch for days.
Level of Difficulty: Easy
Time Required: 50 minutes of hands on time
Ingredients:
1 large onion, diced
1 celery rib, thinly sliced
2 carrots, chopped
1 garlic clove, minced
3 tablespoons olive oil, divided
6 cups chicken broth
1 (15.5-oz.) can diced tomatoes
1 teaspoon dried Italian seasoning
1/4 teaspoon dried crushed red pepper
4 (6- to 8-oz.) skinned and boned chicken breasts
1/2 teaspoon salt
1/2 teaspoon black pepper
2 cups sliced fresh okra
1 (15.5-oz.) can black-eyed peas, drained and rinsed
1 (9-oz.) package refrigerated cheese-filled tortellini
Freshly grated Parmesan cheese
Special Equipment and Other Items Needed:
Preparing Southern Italian Chicken Soup:
1. Sauté first 4 ingredients in 2 Tbsp. hot oil in a large Dutch oven over medium-high heat 3 to 5 minutes or until tender. Stir in broth and next 3 ingredients; bring to a boil, stirring occasionally. Reduce heat to medium, and simmer, stirring occasionally, 10 minutes.
2. Meanwhile, sprinkle chicken with salt and black pepper. Cook in remaining 1 Tbsp. hot oil in a large nonstick skillet over medium-high heat 5 minutes on each side or until lightly browned. Cool slightly (about 5 minutes); cut into 1-inch pieces. (NOTE: When I made the soup, I actually used poached and shredded chicken since I already had some on hand).
3. Add okra, black-eyed peas, and chicken to Dutch oven.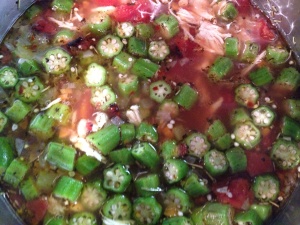 Simmer, stirring occasionally, 10 minutes or until okra is tender.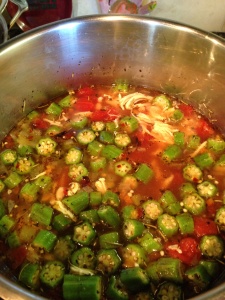 Add tortellini, and cook, stirring occasionally, 3 minutes or until tortellini is done. Serve with Parmesan.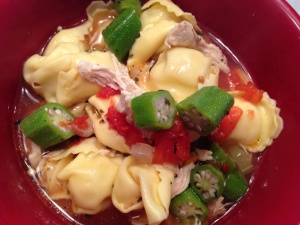 Variations:
I might throw in some fresh spinach or kale next time just for fun.
Meal Ideas:
As with any chicken soup, it goes nicely with a hot grilled cheese sandwich!