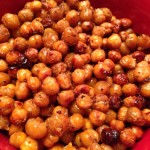 Roasted Chickpeas are my new favorite snack. They take virtually no time to prepare and are so healthy. My daughter even loves them! They are great to put out for a crowd in place of nuts, or even as a salad topping. The possibilities are endless!
Level of Difficulty: Easy
Time Required: Prep Time – 5 min; Cook Time – 35 minutes
Ingredients:
2 cans of chickpeas
2 T. Olive Oil
1 1/2 T. Original Slavo Salt
1 tsp. garlic powder
Preparing Roasted Chickpeas:
Preheat oven to 400 Degrees. Drain and rinse chickpeas and pat dry. Place in mixing bowl. Add olive oil, Slavo Salt, and garlic powder. Mix well. Place on baking sheet and cook for 20 minutes. Stir and cook for additional 15 minutes.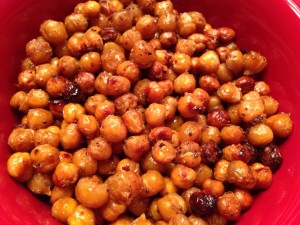 Variations:
If you want to add a little more kick or heat, sprinkle in some cayenne pepper. We have also come up with our own McNack's Six-C Spice Blend© that is awesome too!!