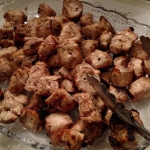 I made these chicken kabobs for the first time a few weeks ago for a group of friends. Let me just tell you that there was not one piece left AND the first thing my son said the next morning was, "Is there anymore of that awesome chicken?" The recipe comes from a Middle Eastern Cook Book called Olives, Lemons, & Za'atar so there are some flavors and ingredients that you might not be used to. Don't let that scare you away….give it a try!
Level of Difficulty: Easy
Time Required: Prep Time – 10min; Marinate Time 3-8 hours; Cook Time – 15 min.
Ingredients:
1 c. fresh lemon juice (about 8 lemons if they are juicy)
1/2 c. extra virgin olive oil
10 garlic cloves, minced
1 T. allspice
1 T. sea salt
1 tsp. freshly ground pepper
1/2 tsp. cumin
1/4 tsp. nutmeg
1/2 tsp. paprika
4 pounds boneless, skinless chicken breasts, cut into 1 1/2 in. chunks
Special Equipment and Other Items Needed:
Grill
Preparing Chicken Kabobs:
Whisk all ingredients together in bowl, except the chicken. Place chicken cubes in a resealable plastic bag. Pour the marinade over the chicken and place in the refrigerator for 3-8 hours.
Preheat grill over medium heat. Thread the chicken cubes onto skewers. Grill the chicken for 10-15 minutes, or until done, turning often.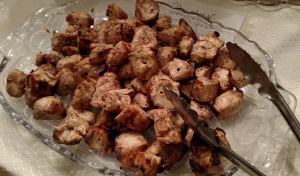 Meal Ideas:
There are a few things you can do with chicken kabobs. It's easy to serve them with Syrian Rice and a green vegetable for a complete meal. The kabobs are also delicious when you put them in a piece of pita bread and top with some tatziki sauce!
Got Leftovers?:
This chicken is fantastic on a salad!