Bacon Bourbon Butter takes butter to a whole new level. My friend Jessica brought this for Baconfest – The Sequel and it was a huge hit. She was so sweet she made an extra one just for the family that we wouldn't have to share with anyone!!
Level of Difficulty: Easy
Time Required: Prep Time – 10 min; Chill Time – at least 2 hours
Ingredients:
1 slice smoked bacon, finely chopped
1 tsp. bacon drippings
1 stick (1/2 cup) unsalted butter room temp
1 tablespoon bourbon
1 tablespoon pure maple syrup
1 tsp. brown sugar
Kosher salt to taste
Preparing Bacon Bourbon Butter:
Using a fork, vigorously whisk together all ingredients in medium bowl until well combined. Transfer to wax or parchment paper. Fold over paper and roll into a cylinder. Chill until solid. Refrigerate up to 2 weeks or freeze up to 3 months!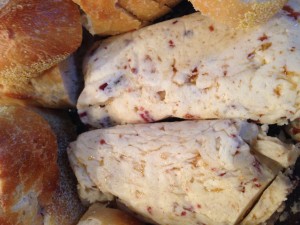 Meal Ideas:
Jessica served her Bacon Bourbon Butter with a warm baguette. I used it in baked potatoes and it was delicious! I think next I will try it in with pasta and see how it tastes. I'm sure it will be amazing!!