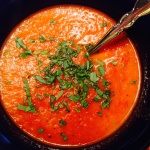 As you can tell from the last couple of weeks, I'm trying to make a new soup at least once a week. It's cold and soup warms you quickly from inside out. As I was looking at recipes, I found Martha Stewart's Roasted Tomato and Tarragon Soup and decided to give it a try. I've never been a huge fan of tomato soup because I've always thought it was too thin. This was actually the prefect consistency!
Level of Difficulty: Easy
Time Required: Prep Time – 15 min; Cook Time – 90 min.
Ingredients:
4 pounds plum tomatoes, halved
2 medium yellow onions, diced
3 garlic cloves, smashed and peeled
1/4 cup extra-virgin olive oil, plus more for drizzling
Coarse salt and ground pepper
4 cups low-sodium chicken broth, plus more for thinning
2 tablespoons fresh chopped tarragon
Special Equipment and Other Items Needed:
Preparing Roasted Tomato and Tarragon Soup:
Preheat oven to 450 degrees. Toss together tomatoes, onions, garlic and oil; season with salt and pepper.
Arrange vegetables in a single layer on a rimmed baking sheet.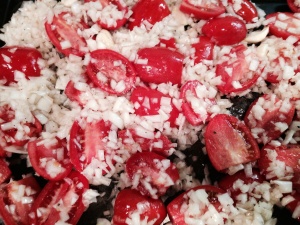 Bake until tomatoes are deep brown in spots and onions are soft, 45 minutes.
Transfer vegetables and all juices to a large dutch oven or heavy pot. Add chicken broth and bring to a rapid simmer.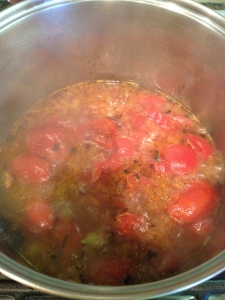 Cook until slightly reduced, about 25 minutes.
Using an emersion blender, puree until smooth. (If you don't have an emersion blender, working in batches, puree in a blender and return to pot).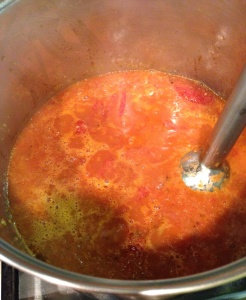 Stir in tarragon and season with salt and pepper. If necessary thin with additional chicken broth. Serve with a drizzle of olive oil.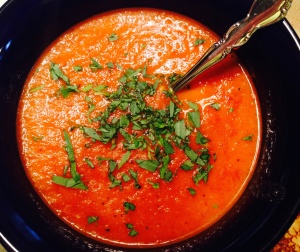 Meal Ideas:
This soup is delicious on it's own, but I'm not going to lie…a nice toasty grilled cheese is a great compliment!