Lets be real. Everyone loves bacon. I read something in a magazine recently that said even vegetarians love bacon, they just won't admit it! Bacon is all the rage these days. We hosted a Baconfest last summer and it was so popular that we are having "Baconfest – The Sequel" next week! I have since seen everything from Bacon Salt, to Bacon Perfume and even Bacon Dental Floss. Whatever works, right?
Which cut of bacon should you buy? We no longer only have the options that our parents bought 30 or 40 years ago. There are all sort of cuts for all different reasons. Here is a little "cheat sheet".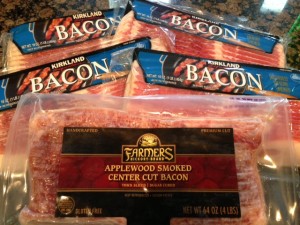 Regular (or Standard) – This is what you see the most of at the grocery store. Chances are this is what you typically serve at home and is most often found in restaurants. It's cut about 1/4 inch thick and is considered the "everyday" bacon. It also the cheapest cut of bacon you can get.
Thick Cut – These pieces are about twice as thick as regular bacon and hold their shape well in pastas or soups. You can usually find it at your local grocery store as well.
Center Cut – This type of bacon is made from pork belly and is cut close to the bone. It has about 30% less fat than regular bacon. Center cut bacon is perfect to wrap sausages, asparagus or jalapeño poppers in. Note: Before wrapping food in bacon, make sure you let the bacon sit on the counter for a bit to bring to room temperature. It makes it much easier to work with since it becomes more "stretchy"! I speak from experience when I say center cut bacon is damn good all on it's own!!! I buy center cut applewood smoked bacon at my local Costco.
Adapted from: Food Network Magazine March 2014