My aunt made Bon Appetit's version of these caesar salad boats recipe a few years ago for a holiday. I added a few ingredients to enhance the color and bring out some more flavor when I made it for Christmas Eve this past year. Caesar salad is always a safe way to go when having a crowd, but this presentation really steps up your game and impresses people!
Level of Difficulty: Easy
Time Required: Prep Time – 15 minute; Chill Time – 30 minutes; Assembly Time: 10 minutes
Ingredients:
3 small cucumbers, cut in slices and then quartered
3 roma tomatoes, cut in slices and then quartered
1/2 bunch parsley, chopped
1/2 cup sliced black olives
1/4 cup of your favorite caesar salad dressing
1 head of romaine lettuce
1 package of your favorite croutons
1/2 cup shredded parmesan cheese
Fresh ground pepper
Preparing Caesar Salad Boats:
Combine first 5 ingredients in a bowl and mix well. Put in the refrigerator to chill for at least 30 minutes (Can be made 2 hours ahead).
Wash lettuce and pat dry using paper towels. You are going to want to use lettuce leaves that are on the bigger side and sturdy. Don't use any that have broken. Arrange leaves on your platter. Scoop about two tablespoons of the mixture onto the leaves. Garnish with croutons and shredded parmesan. Add fresh ground pepper and serve!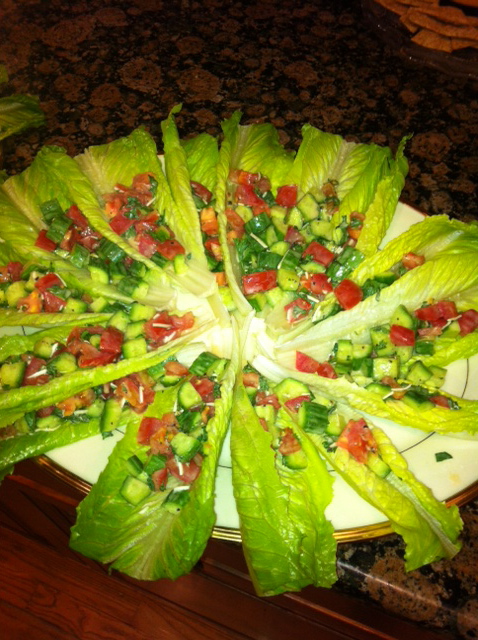 Important Tips:
Make sure you don't make the leaves too heavy as they will break. These are supposed to be eaten with your hands, not a fork and knife! That's why kids love them!
Variations:
Mix up your ingredients however you like! I always make a tray without tomatoes since there are members of my family who hate them. Take out the black olives if you don't like them or add some colorful peppers! You really can tailor this to the tastes of your guests! Melissa would probably add some white anchovies across the top but that would make me sick! But, if you like them, go for it.