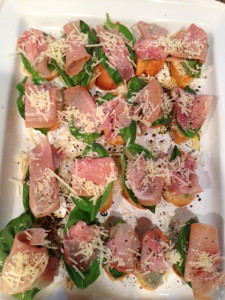 Prosciutto Basil Crostini with Shredded Parmigiano Reggiano Cheese sounds all big and fancy, but it's really very simple. It doesn't take long to make and is always a big hit. You can serve it for a holiday, casual get together, Bunco night, or anything in between. So, in other words, it really is a perfect appetizer!
Level of Difficulty: Easy
Time Required: Prep Time – 5 min; Cook Time – 10-15 min; Assembly Time – 10 min
Ingredients:
1/4 cup of olive oil
1 large baguette loaf (the kind you get in the bakery section)
1/3 pound thinly sliced prosciutto piccolo (it is the kind with the skin on)
1 package of basil (or if you're Melissa, basil from your garden)
1/4 cup shredded parmigiano-reggiano cheese
Freshly cracked black pepper
Special Equipment:
Pastry Brush
Preparing Prosciutto Basil Crostini:
Preheat oven to 400 Degrees. Slice the baguette into 1/4 in. thick slices. Place on a baking a sheet. Brush each piece with olive oil until coated.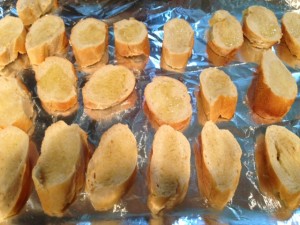 Cook for about 10 minutes until just starting to get brown on the outsides and the inside is just starting to become firm. Let cool.
Place one piece of basil on each baguette, followed by 1/2 slice of prosciutto. Do this for all of the baguettes.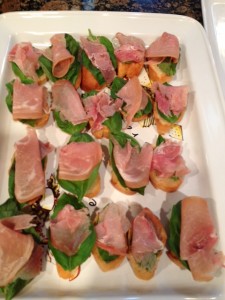 When you have finished, sprinkle with cheese and add some cracked pepper!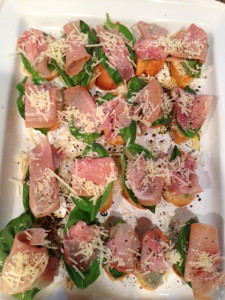 Important Tips:
Make sure you cook the baguette in the oven long enough to make it crunchy. If you don't, the olive oil will make it soggy.