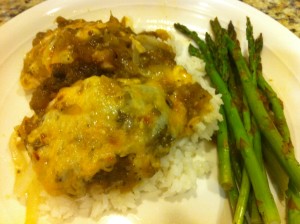 While on vacation and staying in a place with a kitchen, I like to cook so we don't have to eat out all the time. However, it is my vacation too, so I don't want to be in the kitchen the whole time. I like to find meals that feed a crowd but can still be done in about 30 – 45 minutes. This is one of those things. Super simple and super tasty. This recipe is for 8 people.
Level of Difficulty: Easy  Time Required: Prep Time – 5 min; Cook Time – 30 minutes
Ingredients:
8 boneless skinless chicken breasts
12 ozs jarred salsa verde – since this is the main flavor of the dish, spring for a quality salsa
1 onion (optional)
Salt and Pepper
2 cups of shredded cheese (Mexican blend, cheddar, pepper jack, whatever you like)
Preparing Salsa Verde Chicken:
Preheat oven to 350 degrees. Slice the onion into 1/4 inch thick rings and spread over the bottom of the baking dish. Place 8 boneless skinless chicken breasts on top of the onion in a single level but snug close together. Sprinkle with salt and pepper. Pour over the salsa verde until just covered. Bake for about 25 minutes or until almost done. Cover with cheese and broil for 5 minutes until bubbly and starting to brown.
Remove from oven and serve.
Meal Ideas:
Served this with roasted asparagus that I roasted with a bit of the salsa verde and black beans and rice. All super easy, done in 30 minutes, feeds a crowd, great for a meal while on vacation.