Who doesn't love Summer Cocktails? There's just something about sipping refreshing drinks by the pool or at an outdoor concert that puts a smile on my face. I found two new ones this summer I wanted to share.
1. THE URSULA – On my recent vacation, I met a great lady named Ursula. She is a flight attendant and has had many years of experience mixing drinks for passengers. She told me about a drink that she created and that it tastes just like a creamscicle or 50/50 bar. I asked her what the name of her drink was called and she said she didn't have one. Immediately, it became known as "The Ursula"! Of course, I had to try it. It was absolutely delicious! My friend Kim and I agreed that it would be a great pool drink. It's light, cold, and refreshing! If yours is a little watery for your taste, try 2% milk! Thanks, Ursula. Cheers!!!
Ingredients:
Grand Marnier
Fat free milk
Orange juice
Orange slice
Preparing The Ursula:
Mix Grand Marnier, milk and orange juice together in equal parts, but add about a splash more of Grand Marnier.  Pour over ice and garnish with a fresh orange slice.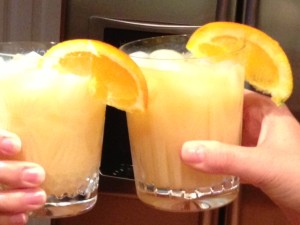 2. MALIBU RUM AND CRANBERRY: I went to a wine tasting with my husband and some friends recently at Brookstone Country Club. We got there early so I ordered a Grey Goose and Cranberry at the bar (one of my favorite cocktails). The bartender suggested that I have a Malibu Rum and Cranberry instead. I was hesitant since I had "a bad experience" with rum many (many) years ago. Anyway, he gave me a generous sample to try and I have to say it was AMAZING!! The only thing I changed when making it for myself was using Diet Cranberry to cut down a bit on the sweetness.