I've never been a huge meatloaf lover. I don't know if it's because I didn't like the recipe that was used when I was growing up or because the concept of a loaf of meat grossed me out. It could also have been the ketchup. Anyway, my husband and daughter have always been fans, but my son…not so much. I've been determined to find a recipe he will like. I came up with this one from a collection of recipes and ideas. I must say…HUGE hit! I wonder if it's the bacon!
Level of Difficulty: Moderate
Time Required: Prep Time – 20min; Cook Time – 1 hour
Ingredients:
1 1/4- 1 1/2 pounds of ground beef
1 cup seasoned breadcrumbs
1 1/2 cups finely chopped mushrooms
1/2 cup bacon, cooked and finely chopped
1/2 cup shredded cheddar cheese
1/2 cup finely chopped onion
1/4 cup ketchup
1 T. chopped parsley
1 T. chopped thyme
2 eggs
1 1/2 T. Worcestershire sauce
2 garlic cloves, minced
1 1/2 tsp. salt
1/2 tsp. pepper
4 strips raw bacon
BBQ sauce
Preparing Meatloaf:
Preheat oven to 350 Degrees. Line a baking sheet with parchment paper. Combine all ingredients except for raw bacon and BBQ sauce in a large mixing bowl. Mix well with your hands. Shape into a 9 x 5 oval loaf and place on parchment paper.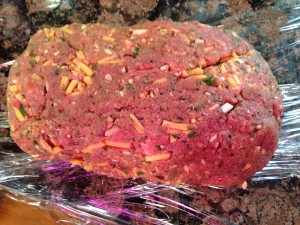 Top with strips of bacon.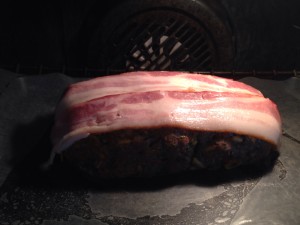 Bake for 30 minutes. Brush the tops and sides of the meatloaf with BBQ sauce and bake for an additional 25 minutes, or until the internal temperature reaches 160 Degrees. Let rest before slicing.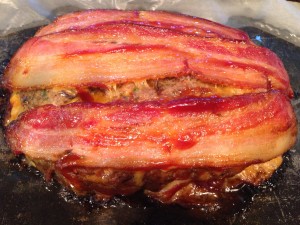 Variations:
Oh my. You could really add just about anything you wanted to into the meatloaf. You can change the ground beef to ground turkey, change up the ingredient you use to bind the meat together and throw in just about any vegetable you want! Top with a tomato based sauce if you prefer instead of BBQ sauce.
Meal Ideas:
Serve with mashed potatoes and a salad!