I often get into the habit of cooking a protein, vegetable, and starch separately. I guess it's from years of my kids not wanting their food to mix. Now that they are older and have a slightly more sophisticated palate, I'm able to experiment a little more. I found this recipe for Garlic Chicken and Potatoes in the November 2012 issue of Food Network Magazine. If you don't already have a subscription to this magazine, I highly recommend that you treat yourself to it!
Level of Difficulty: Moderate
Time Required: Prep Time – 15 min.; Cook Time – 40 min.
Ingredients:
2 pounds fingerling potatoes, cut into halves or quarters
3 T. extra virgin olive oil
1/2 tsp. cumin
Kosher salt and fresh ground pepper
6 cloves garlic, crushed
2 T. light brown sugar, packed
1 lemon (1/2 juiced, 1/2 cut into wedges)
Pinch of red pepper flakes, optional
4 skinless boneless chicken breasts
2 T. chopped parsley
Special Equipment Needed:
Preparing Garlic Chicken and Potatoes:
Position a rack in the lower third of the oven and preheat to 450 Degrees. Toss the potatoes with 1 T. olive oil, cumin, 1/4 tsp. salt and pepper to taste. Spread in a large baking dish and roast until the potatoes begin to brown, 20 to 25 minutes.
Meanwhile, heat the remaining 2 T. olive oil in a small skillet over medium heat. Add the garlic and cook, stirring frequently until golden, about 2 minutes. Remove from heat and stir in the brown sugar, lemon juice and red pepper flakes.
Remove the baking dish from the oven, push the potatoes to the side and arrange the chicken breasts in the middle. Season the chicken with salt and drizzle with the garlic mixture.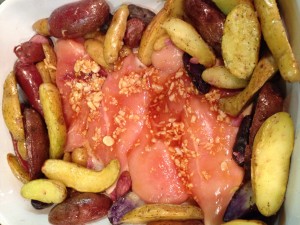 Return to the oven and bake until the chicken is cooked through and the potatoes are tender, about 15-18 minutes. Remove from the oven; transfer chicken to cutting board and slice. Add the parsley to the baking dish and toss with potatoes. Serve the chicken with the potatoes and lemon wedges. Drizzle with the pan juices.

Meal Ideas:
Serve the Garlic Chicken and Potatoes with a green vegetable or salad for a complete meal.