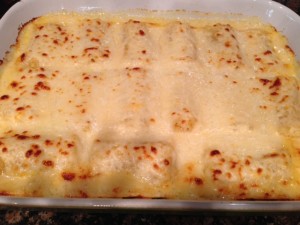 I wanted to make a new pasta dish for my family and came up with these little lasagna bundles. They are a bit time consuming to prepare, but once they are in the oven, you can sit back and relax knowing that a great dinner is on it's way!
Level of Difficulty: Moderate
Time Required: Prep Time – 30min; Cook Time – 45 min.
Ingredients:
Cheese Sauce:
4 T. salted butter
1/4 c. all purpose flour
4 c. fat free milk (you can use whole milk, but I try to cut the fat)
1 c. shredded cheddar cheese
3/4 c. shredded mozzarella cheese
3/4 grated parmesan
pinch of salt
Filling:
1 lb. ground beef
1/4 c. onion, chopped
1 T. fresh thyme, finely chopped
1 T. fresh rosemary, finely chopped
3/4 c. your favorite marinara sauce
Bundles:
1 T. olive oil
1 package lasagna noodles
1 c. mozzarella cheese
2 T. grated parmesan
Preparing Lasagna Bundles:
First, make the cheese sauce: In a large saucepan, melt the butter over medium heat. Whisk in the flour until smooth, whisking for about a minute. Gradually whisk in milk and salt until smooth. Bring to a boil and cook, whisking often, until the sauce has thickened, about 2 minutes. Remove from heat and add the cheeses. Set aside.
Next, make the filling: Brown the ground beef in a large sauté pan along with the onion. When the meat is brown, add the thyme and rosemary. Drain. Put into a mixing bowl and add in the marinara sauce and mix well.
Preheat oven to 350 Degrees. Boil a large pot of water and cook the noodles for 8 minutes. Drain and rinse under cold water. Pat dry and lay out on a work surface. Pour about 2-3 cups cheese sauce on the bottom of a 9×13 in. baking dish. Place about 1 spoonful of filling on an end of each lasagna noodle.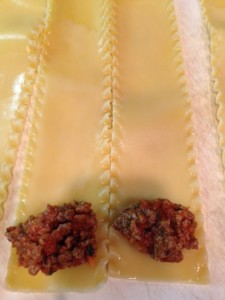 Roll up and place seam side down into the cheese sauce on the baking pan. Repeat until the dish is full.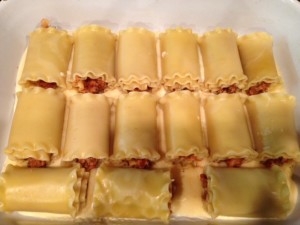 Top with more cheese sauce, 2 T. parmesan cheese and 1 c. mozzarella cheese.
Cover with foil and bake for 35 minutes. Uncover and bake for 10-15 minutes more, or until the cheese starts to brown. Let rest for 5 minutes before serving!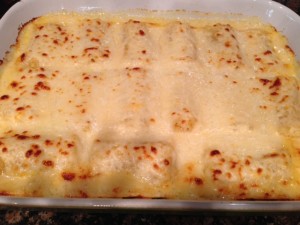 Variations:
You can stuff the lasagna bundles with whatever ingredients you like, add some mushroom, make it vegetarian, or use a different meat.
Got Leftovers?:
This reheats very well, so make sure you save the leftovers!