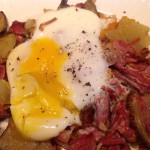 You know that pile of stuff some folks think looks like something your cat coughed up that people call Corned Beef Hash? Well, although it tastes pretty good it is a very unattractive dish. After I made some corned beef getting ready for St. Patrick's Day today, I decided to use the leftovers of the corned beef and of my potato galette to make an easy and delicious version of corned beef hash with an egg on top to for breakfast. It was beyond delicious and pretty too!!
Level of Difficulty:Easy
Time Required:Prep Time – 5min; Cook Time – 15 min
Ingredients:
I made this just for myself for breakfast, it would be easy to portion this for how ever many people you are feeding but cooking the eggs in mass quantities is not easy. I'd recommend for 4 or fewer people.
1 egg per person
about 3oz corned beef, chopped
about 3oz previously cooked potatoes, chopped
salt and pepper
olive oil
How to make easy corned beef hash with eggs:
Drizzle a sauté pan with a little olive oil and place over medium high heat. Add the potatoes and cook for 2-3 minutes. Add the corned beef and cook for an additional 3 minutes tossing to mix and brown evenly.
Reduce the heat to medium, crack one egg over the top of the corned beef hash and cover the skillet with a lid to keep the steam in (it doesn't have to fit).
Cook until egg is cooked to desired firmness (or runny-ness in my case).
Add salt and pepper and serve! This is a great use of leftovers and much better than a traditional corned beef hash!!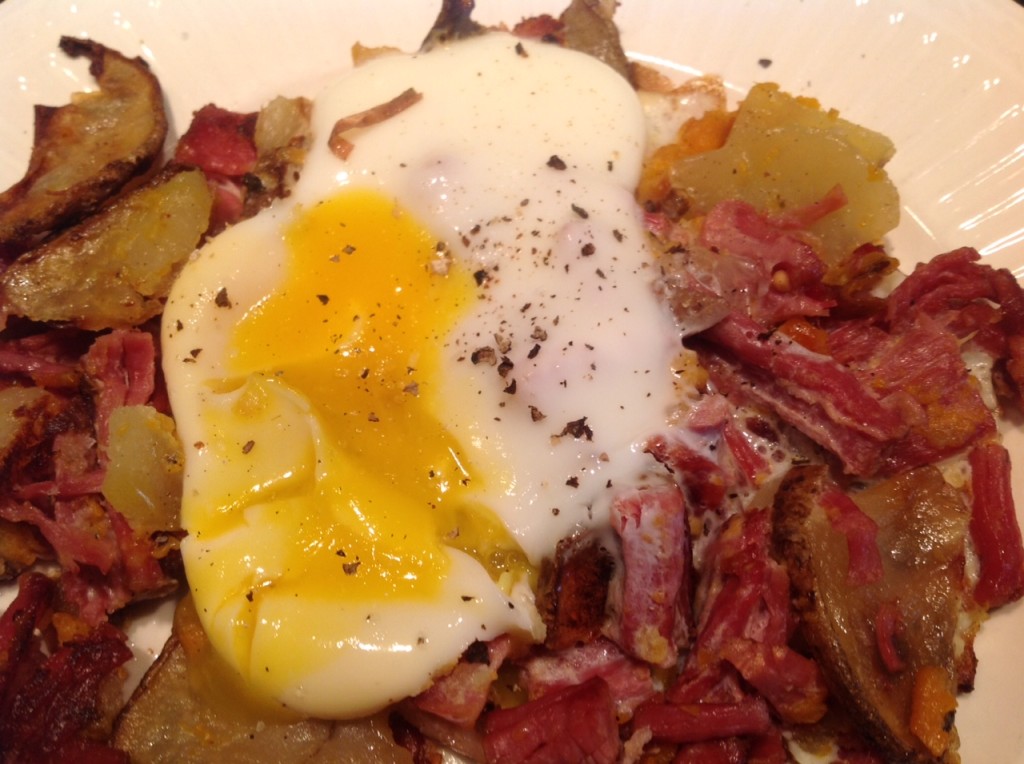 Got Leftovers?
This was the leftovers!!