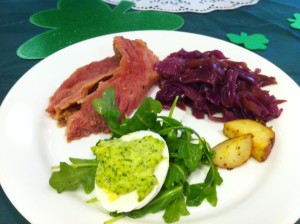 With Saint Patrick's Day right around the corner, you may need some good ideas for a St. Patrick's themed meal.
It was time to cook for the folks at church again today and Denise came and helped me out again! I love hanging in the kitchen together. It really is so much fun. Since St. Patrick's Day is Sunday, we decided on a complete Irish meal. I researched a lot of recipes and decided on the following. It all turned out delicious!
Salad:
Green Deviled Eggs – I found this on FoodNetwork.com .  I left out the ham for this recipe and served the eggs over a bed of arugula dressed with just lemon juice and a touch of olive oil.
Main Course:
Corned Beef – I was ready to make this from scratch and pickle my own brisket, but I just did not have the 10 days to make sure it was really good. As I was going through Costco, I found corned beef brisket ready to cook. Three of those (about 3.5lbs each) was enough for our crowd of 36 today. I followed their instructions on the package to cook, about an hour a pound at 350 degrees, but I did doctor it some by braising it with carrots, celery, garlic cloves and onions too.
Roasted Red Potatoes – what's an Irish meal without potatoes, really?!
Braised Red Cabbage – I found this on FoodNetwork.com as well. I must have read through 10 braised cabbage recipes until I found this one from Guy. It was exactly what I wanted to pair with the meal. Turned out great.
Dessert:
I bought three of the huge apple lattice pies from Costco. They are always a hit.