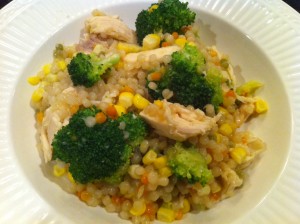 A friend of mine introduced me to a Trader Joe's product called Harvest Grains Blend which has a mix of pearl couscous, orzo, baby garbonza beans and quinoa. My kids love this but the other day I was just at my regular grocery store and not Trader Joes. I was not hungry, I was tired and I was not in the mood to cook! But, no rest for the weary when you're a working mom! I remembered I had leftover roasted chicken in the fridge and decided an easy one pot meal was in order. So I bought a small container of Israeli style pearl couscous, a large head of fresh broccoli and went home.
I pulled some chicken broth out of the pantry and used that instead of water to cook the couscous (a must in my book when the grain is the star of the show). I measured enough broth to cook 2 cups of dry couscous. While waiting for it to boil, I washed and trimmed the broccoli and pulled all the leftover chicken off the bone, shredded and cut into bite size pieces. While in the fridge, I saw that I had a few ears of corn on the cob I had cooked the night before too so I cut it off the cob.
Once the broth was boiling, I added the pearl couscous. I let it cook for about 2 minutes and then added the broccoli and covered. When there was about 5 minutes left, I added the corn and chicken, stirred everything up and replaced the lid and let continue cooking until the couscous was done. I stirred one more time and added a touch more broth too. Stirring it added a creamy texture kind of like risotto.
Remove from heat, stir it up, sprinkle with parmesan cheese and serve. I got a lot of empty bowls back!
Just another thing to do with leftover shredded chicken
Ingredients:
3 1/2 cups chicken broth
2 cups pearl couscous
1 head broccoli, washed and trimmed
1 ½ cup fresh cooked corn kernels
1 ½ cup shredded chicken
Parmesan cheese to top (optional)
To add to Melissa's chicken broth comment, you would be amazed at the difference in the way your grain (especially rice) will taste if you cook it in chicken broth instead of water.  – Denise